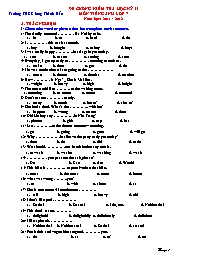 A. TRẮC NGHIỆM
I/ Choose the word or phrase that best complete each sentence.
1/ The family returned Ha Noi by train.
a. in b. to c. back d. for
2/ I this car last month.
a. buy b. bought c. to buy d. buys
3/ I was really happy .Mark again yesterday.
a. see b. to see c. seeing d. sees
4/ Everyday, I get up early to morning exercises.
a. make b. does c. get d. do
5/ I have a toothache so I am going to the .
a. nurse b. doctor c. dentist d. teacher
6/ How is Nga? _ She is 36 kilos.
a. weight b. heavy c. high d. height
7/ The nurse told Hoa . to the waiting room.
Bạn đang xem tài liệu "Đề cương kiểm tra học kỳ II môn Tiếng Anh Lớp 7 – Năm học 2011-2012", để tải tài liệu gốc về máy bạn click vào nút DOWNLOAD ở trên
Trường THCS long Thành Bắc
ĐỀ CƯƠNG KIỂM TRA HỌC KỲ II
MÔN TIẾNG ANH LỚP 7
Năm học: 2011 - 2012
A. TRẮC NGHIỆM
I/ Choose the word or phrase that best complete each sentence.
1/ The family returned  Ha Noi by train.
in b. to c. back d. for
2/ I  this car last month.
a. buy b. bought c. to buy d. buys
3/ I was really happy .Mark again yesterday.
see b. to see c. seeing d. sees
4/ Everyday, I get up early to  morning exercises. 
make b. does c. get d. do
5/ I have a toothache so I am going to the .
nurse b. doctor c. dentist d. teacher
6/ How  is Nga? _ She is 36 kilos.
a. weight b. heavy c. high d. height
7/ The nurse told Hoa . to the waiting room.
a. returning b. to return c. return d. returned 
8/ Don't eat too  candy.
many b. much c. lots of d. a lot of 
9/ She looks tired. What's the .. with her?
happen b. wrong c. matter d. from
10/ Did Liz buy any in Nha Trang?
a. picture b. gifts c. cap d. hat
11/ Lan ..to the doctor tomorrow morning. 
 a. go 	b. going 	c. goes 	 	 d. will go 
12/ Why Mai leave the party early yesterday? 
 a. does 	b. do	c. did	d. to do 
13/ We should our hands before any meals. 
 a. to wash 	b. washes 	c. washing	 	d. wash 
14/  you pass me the salt, please? 
 a. Do 	b. Can 	c. Are 	 d. Would
15/ This bike is .. expensive than that bike.
 a. most 	 b. the most	 c. more	d. better
16/ what was wrong .you?
 a. to 	 b. with	c. about 	d. at
17/ She is one meter 45 centimeters.
tall 	 b. high	 c. heavy 	d. old
18/ I don't like pork. .
So do I 	b. So am I 	 c. I do, too. 	d. Neither do I
19/ This food tastes .
delightful 	b. delightfully 	c. deliciously d. delicious
20/ I like spinach. .
Neither do I 	b. Neither am I 	 c. So do I 	d. so am I
21/ Fresh fruit and vegetables are good. you.
for	 b. at 	 c. of 	 d. on 
22/ Everybody wished . this activity.
keep 	b. to keep 	c. keeping 	d. to keeping
23/ We can learn more about the undersea world . this invention.
 a. because 	b. for	 c. thanks to 	 d. thanks for
24/ The number of participants .every week.
 a. increase 	 b. increases 	 c. is increase 	d. are increase
25/ .. is a person who swim underwater using special equipment.
 a. Diver 	b. Scientist	c. Participant 	d. Cyclist
26/ She prefers part in sports.
take 	b. to take 	c. took	 d. takes
27. My mother always drives 
 a. carefully	 b. careful	 c. care	d. carefulness	
28. He likes  sports.
 a. watch 	 b. watches 	c. watching	 d. watched 
29. They prefer reading  watching TV.
 a. than 	b. more 	c. to 	d. most 
30. You ought . to the dentist. 
 a. go	 b. goes 	 c. going 	d. to go 
31. They .to visit their old friends tomorrow. 
 a. will b. are going c. will be d. go 
32. Hoa the busy city traffic now. 
 a. used to b. uses to c. gets used to d. get used to 
33. The students have a .. break between tow periods.
 a. five-minutes b. five minute c. five-minute d. five minutes
34. She goes to the public library ..
 a. carefully b. regularly c. suddenly d. finally 
35. Jakarta is in ..
 a. Malaysia b. Myanmar c. Indonesia d. Thailand 
II. Choose the words or phrases that are not correct in Standard English.
He doesn't know how to take care for himself.
 A B C D
Her brother likes play tennis every weekend. 
 A B C D
You should remember brushing your teeth every day.
 A B C D
His mother wanted him to not eat too much cake.
 A B C D
He needed staying in bed because he had a bad cold.
 A B C D
 6. My brother doesn't like durians, and I don't like them, too. 
 A B C D
 7. Viet not got up early and do morning exercises yesterday.
 A B C D 
 8. Last week the dentist felt a cavity in my broken tooth.
 A B C D 
 9. You look tired. You'd better staying inside at recess.
 A B C D 
 10. Nam is having a medical check up and so I am. 
 A B C D 
III. Choose the word that has the underlined part pronounced differently
1. a. how b. cow c. brown d. know 
2. a. gave b. map c. tape d. date
3. a. very b. try c. by d. dry
4. a. shirt b. fire c . bird d. first
5. a. hated b. planted c. raised d. completed
6. a. busy b. but c. cut d. bus 
7. a. school b. food c. room d. floor 
8. a. banana b. apple c. orange d. matter 
9. a. but b. cut c. put d. bus 
10. a. riding b. writing c. liking d. mixing
B. TỰ LUẬN 
I. Supply the correct form of the verbs in brackets: 
1. She never (stay) up late at night.
2. My mother (plant) flowers in the garden at the moment. 
3. Minh (go) to the dentist tomorrow morning. 
4. I (brush) my teeth every night, but last night I (forget) to brush them.
5. Yesterday, Hoa and her aunt (go) to the market.
6. I would like (tell) you about my family. 
7. Vegetables often (have) dirt from the farm on them. 
8. My father (not watch) TV last night. He (read) newspapers and magazines.
 9. You should (add) a little salt to the spinach when you boil it. 
10. Basketball (become) very popular all around the world in 1990s.
11. She never (allow) her children.
12. You ought (finish) your homework before (watch) TV. 
13. He (read) the book in the library now.
14. The children must (be) back at six o'clock.
15. I like (watch) basketball. 
16. My mother (not like) riding. She (prefer) walking. 
17. When my father (be) young, he (drink) a lot of wine. 
18. Lan's family always (watch) TV in the evening. 
19. Many years ago, most people in Vietnam (not have) TV sets. 
20. Nga likes (watch) programs about teenagers in others countries.
II. Answer the questions:
1. Which sports do you like?
2. What do you usually do in your free time?
3. Do you like walking?
4. How often do you play sports? 
5. What is your favorite TV program?
6. What do you usually do in the evening?
7. Did you go to Da Lat last summer vacation?
8. Will you have a test next week?
9. How tall are you now?
10. What did you do yesterday? 
III. Make the questions for the underlined words.
1. She went to the doctor because she had a backache.
.........................................................................................................................
2. Nga brushes her teeth three times a day.
 ..
3. The fat man is about 100 kilos.
..
4. Miss Hoa taught them English last year.
5. They have dinner at seven o'clock.
.
6. Mai's favorite subject is computer science ..
7. My family usually watches TV in the evening.
.
8. The students are practicing their English at the moment.
9. Lan didn't go to school yesterday because she was sick.
.
10. I'm one meter 45 centimeters tall.
IV. Make meaningful sentences from the sets of words or phrases given. 
I / visit / grandparents / yesterday.
She / buy / lot / souvenirs / last summer / vacation.
I / see / you / the party / last night.
Parents / pleased / because / I / do / fine / school / now.
not / worry / me / because / I / know / take / care / myself.
sound / drill / make / me / a little / scared.
It / take / dentist / less / 10 minutes / fill / cavity / my tooth / yesterday.
Peter / be / good painter / he / can / earn / lot / money / painting.
It / not / easy / find / cheap house / center / city.
John / start / learn / swim / when / he / be / little by. 
V/ Rearrange the words to make meaningful sentences. 
Internet / can / more / learn / we / the / thanks / about / world / to / the / 
in / take / I / club / like / English / would / part / speaking / to / 
accidents / swimming / be / can / happen / easily / but / can / fun/ 
thousands / the / lives / of / could / doctors / after / save / of / this / medicine / invention/ 
she / more / better / older / club / climbs / members / of / the / quickly / and / than / 
VI. Complete the sentence so that the meaning stays the same. 
She is not a quick runner.
She does _____________________
What is the matter with him? 
What is ______________________?
How much do you weigh?
How ______________________?
His brother cycles safely. 
His brother is _________________
He is a more careful and quicker writer than I am.
He writes ______________________________________
To get a bad mark at any subject is unhappy.
It's __________________________________________ 
Mary likes to eat ice cream and Peter likes to eat ice cream. 
Mary likes ________________________________________
Hoa hates the noise and the busy roads in the city.
Hoa doesn't ______________________________________ 
I like video games better than computer games.
I prefer ____________________________________________
Let's go to the amusement center. 
Why don't ________________________________________?
What is your daughter's age, Mrs Mai? 
How ________________________________________?
 Lan didn't go to school yesterday because of her sickness.
Because Lan _____________________________________
 You shouldn't eat too much meat.
You'd __________________________________________
How heavy is the chicken?
What __________________________________________?
Hien is a fluent English speaker.
Hien speaks _____________________________________
VII. Complete the text with the suitable words
j 	A runny nose catch well cold unpleasant symptoms cure only. There is (1) ________ one disease called common: the common (2) ________. We call it the common cold because every year millions of people (3) ________it. 
	Everybody knows the symptoms: (4) _______a slight fever, coughing and sneezing. It is very (5) _________but nobody knows a cure. 
	At the drugstore, there are usually shelves with cold "cures". These medicines don't (6) ________a cold, but they do relieve the (7) ________. Whatever you do, your cold will last for a few days and then disappear. 
How can you help prevent a cold? Eat (8) ________, exercise and you will be fit and healthy. 
k 	During the year (1) _______in England usually try their best to study (2) _______ at school and help their mother with the (3) _________. They have no lessons (4) ________ Christmas Day. They stay at home to help their parents decorate the (5) _________and the Christmas tree. Before bedtime on Christmas Eve, they (6) __________ stockings at the feet of their beds. (7) ________ Christmas will bring them presents during the night. On Christmas Day they go to (8) ________ in the morning, then have a special (9) ________with turkey and Christmas pudding. After that they (10) ___________some games in the afternoon. 
VIII. Read. Then answer the questions
j	Nowadays, television becomes very popular. Both old and young people enjoy watching it very much. TV programs attract millions of viewers all around the world. In addition to the news, television stations also broadcast many interesting programs such as sports, music, cartoons, wild life, popular science, reports, contests, movies, etc. At present, people can enjoy a live program on TV. Live TV program helps us see events at the same time as they are happening. In our country, we often watch live TV programs of important events and international football matches.
Questions 
Who enjoy watching television?
What do television stations broadcast? 
What programs helps us see events at the same time as they are happening?
What live TV programs do we often watch in our country?
k	Ba has an awful stomachache. He feels terrible. Last night he had rice, fish and soup for dinner. He also ate spinach. His parents did not eat spinach and they are all right. The doctor says that probably it was the spinach, but he did not do it carefully. That's why his stomachaches now. As we know, vegetables often have dirt from the farm on them. That dirt can make you sick. So remember to wash them well with sterile water before eating.
Questions 
What's the matter with Ba?
What did he have for dinner last night?
What do you think made Ba sick?
What should we do before eating vegetables?
l A French oceanographer, Jacques Cousteau (1910-1997), invented a deep-sea diving vessel in the early 1940s. In the vessel, he could explore the oceans of the world and study underwater life. Now we can explore the oceans using special TV cameras as well. We can learn more about the undersea world thanks to this invention.
Questions 
What does Jacques Cousteau do?
What did he invent?
What could he do?
What can we learn thanks to his invention? 
THE END
KEY
A. TỰ LUẬN
I /
1a, 2b , 3b , 4d , 5c , 6b , 7b , 8b , 9c , 10b, 11d , 12c , 13d , 14b , 15c , 16b, 17a , 18d , 19d , 20c , 
21a , 22b , 23c , 24a , 25a , 26b , 27a , 28c , 29c , 30d ,31b, 32c, 33c, 34b, 35c
II
 1 D, 2 B, 3 B , 4 C, 5A, 6D, 7A, 8B, 9C, 10D
III/ 
1. know 6. busy
2. map 7. floor
3. very 8. orange
4. fire 9. put
5. raised 10.mixing
B. TỰ LUẬN 
I/ 
1. stays	2. is planting 	3. will go 	4. brush, forgot 	5. went
6. to tell 	7. have 	8. didn't watch - read 	9. add 	10. became	11. allows
12. to finish – watching	13. is reading 	 14. be 15. to watch 16. doesn't like - prefers 
17. was - drank 	18. watches	19. didn't have	20. to watch 
II / 
1. I like soccer / volleyball / ..
2. I usually play badminton with my friends 
3. Yes, I do. / No, I don't.
4. I play table tennis once a week / I sometimes play sports  
5. My favorite TV program is cartoon / news 
6. I do my homework in the evening.
7. Yes, I did / No, I didn't .
8. Yes, I will. / No, I won't.
9. I'm one meter 45 centimeters tall now.
10. I played games / read books / watched 
 III/ 
1. Why did she go to the doctor?
2. How often does Nga brush her teeth?
3. How heavy is the fat man?
4. Who taught them English last year?
5. What time do they have dinner?
6. What's Mai's favorite subject?
7. What does your family do in the evening?
8. What are the students doing at the moment?
9. Why didn't Lan go to school yesterday?
10. How tall are you?
IV/ 
I visited my grandparents yesterday.
She bought a lot of souvenirs last summer vacation.
I saw you at the party last night.
My parents are pleased because I am doing fine at school now. 
Don't worry about me because I know how to take care of myself. 
The sound of the drill made me a little scared. 
It took the dentist less than 10 minutes to fill a cavity in my tooth yesterday morning. 
Peter is a good painter and he can earn a lot of money from painting. 
It is not easy to find a cheap house in the center of the city. 
John started to learn / leaning to swim when he was a little boy.
V / 
Thanks to the Internet, we can learn more about the world.
We can learn more about the world thanks to the Internet. 
I would like to take part in English _speaking club.
Swimming can be fun but accidents can happen easily.
Doctor could save thousands of lives after the invention of this medicine.
She climbs better and more quickly / more quickly and better than older members of the club. 
VI/ 
She doesn't run quickly.
What is wrong with him?
How heavy are you?
His brother is a safe cyclist. 
He writes more carefully and quickly than I do. 
It's unhappy to get a bad mark at any subject. 
Mary likes to eat ice cream and Peter does, to. / so does Peter
Hoa doesn't like the noise and busy roads in the city.
I prefer video games to computer games. 
Why don't we go to the amusement center
How old is your daughter, Mrs Mai?
Because Lan was sick, she didn't go to school yesterday.
You'd better not eat too much meat.
What is weight of the chicken? / what is the chicken's weight? 
Hien speaks English fluently. 
VII/ 
j 
 1. only	2. cold 	3. catch 	4. a runny nose 	5. unpleasant 	
 6. cure 	7. symptoms 	8. well 
k 
 1. children 	2. well	3. housework 	4. on 	5. house 	
 6. put 	7. Father 	8. church 	9. meal 	10. play 
VIII/ 
j 
1. Both old and young people enjoy watching TV
2. Television stations broadcast news, sports, music, cartoons, wild life, popular science, reports, contests, movies, etc
3. Live TV program helps us see events at the same time as they are happening.
4. In our country, we often watch live TV programs of important events and international football matches
k 
Ba has an awful stomachache.
He had rice, fish, soup and spinach for dinner.
I think dirt from spinach made Ba sick.
We should wash them well with sterile water before eating.
l 
1. He is an oceanographer.
2. He invented a deep-sea diving vessel 
3. In the vessel, he could explore the oceans of the world and study underwater life.
4. We can learn more about the undersea world thanks to this invention.
The end

Tài liệu đính kèm:
de_cuong_kiem_tra_hoc_ky_ii_mon_tieng_anh_lop_7_nam_hoc_2011.doc