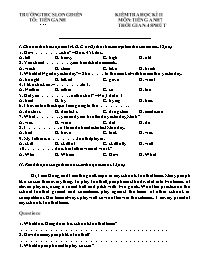 II. Read the passage, then answer the questions: (3 pts)
 Hi, I am Hung, and I am the goal keeper in my school's foolball team. Many people like soccer than everything. To play football, people must be divided into two teams of eleven players, using a round ball and pitch with two goals. We often practice on the school football ground and sometimes play against the team of other schools in competitions. Our team always play well so we often win those teams. I'm very proud of my school's football team.
Questions:
1. What does Hung do in his school's football team?
2. How do many people like football?
3. What do people need to play soccer?
Bạn đang xem tài liệu "Đề kiểm tra học kì II môn Tiếng Anh 7", để tải tài liệu gốc về máy bạn click vào nút DOWNLOAD ở trên
TRƯỜNG THCS LONG ĐIỀN 	KIỂM TRA HỌC KÌ II 
 TỔ : TIẾNG ANH	 MÔN: TIẾNG ANH 7
 *** THỜI GIAN: 45 PHÚT 
_______________________________________
I. Choose the best option (A, B, C or D) that best complete the sentences: (5 pts)
1. How ..is he? – He is 45 kilos.
A. tall	B. heavy	C. high	D. old
2. You shoud .your hands before meals.
A. wash	B. clean	C. take	D. brush
3. What did Nga do yesterday? – She  to the market with her mother yesterday.
A. bought	B. talked	C. gave	D. went
4. I like chicken. – ..do I.
A. Neither	B. either	C. so	D. too
5. Did you . on the shirt? – No, I didn't. 
A. tried	B. try	C. trying	D. tries
6. I have a toothache, so I am going to the .
A. doctor's	B. dentist's	C. drugstore	D. medicine
7. What . you and your brother do yesterday, Minh?
A. was	B. were	C. did	D. do
8. I  a flu and a headache last Monday.
A. had	B. have	C. took	D. was
9. My father is a .football player.
A. skill	B. skillful	C. skillfully	D. well
10.  does her father wear at work?
A. Who	B. Where	C. How	D. What
II. Read the passage, then answer the questions: (3 pts)
	Hi, I am Hung, and I am the goal keeper in my school's foolball team. Many people like soccer than everything. To play football, people must be divided into two teams of eleven players, using a round ball and pitch with two goals. We often practice on the school football ground and sometimes play against the team of other schools in competitions. Our team always play well so we often win those teams. I'm very proud of my school's football team.
Questions:
1. What does Hung do in his school's football team?
2. How do many people like football?
3. What do people need to play soccer?
4. What do they often do?
5. Why do they often win the teams of other schools?
6. How does he feel about his school's football team?
III. Write questions with WH words in brackets: (2 pts)
1. They played games yesterday? (What)
.
2. She usually has breakfast at 6.30. (What time)
3. His teeth are clean. (How)
.
4. There were two patiens in the doctor's office. ( How many)
.
THE END
ĐÁP ÁN
I. (10 x 0.5 = 5 pts)
1. B
2. A
3. D
4. C
5. B
6. B
7. C
8. A
9. B
10. D
II. (6 x 0.5 = 3 pts)
1. He is a goal keeper in his school's football team.
2. Many people like football more than everything.
3. They need a round ball and a pitch with two goals to play football.
4. They often practice on the school football ground.
5. Because they always play well.
6. He is very proud of his school's football team.
III. (4 x 0.5 = 2 pts)
1. What did they do / play yesterday?
2. What time does she usually have breakfast?
3. How are his teeth?
4. How many patiens were there in doctor's office?
THE END

Tài liệu đính kèm:
de_kiem_tra_hoc_ki_ii_mon_tieng_anh_7.doc