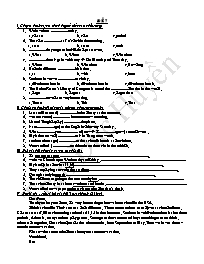 ĐỀ 7
I. Chọn từ hoặc cụm từ thích hợp để điền vào chỗ trống :
1. We have four today .
a. classes b. class c. period
2. The class at 7 oclock in the morning .
 a. start b. starts c. ends
3. do you go to bed? At half past seven .
a. What b. When c. What time
4. does Nga have history ? – On Monday and Thursday .
a. When b. What time c. How long
5. He looks different his father .
a. at b. with c. from
6. Students have two each day .
a. 20-minutes breaks b. 20- minute breaks c. 20-minute break.
7. The United Statess Library of Congress is one of the libraries in the world .
a. large b. largest c. larger than
8. novels are very interesting .
a. These b. This c. That
II. Cho dạng hoặc thì đúng của động từ cho trong ngoặc :
1. Lan and Hoa (read) in the library at the moment .
2. we ( not come) here tomorrow morning.
3. Listen! The girl (play) the piano.
4. Nam (go) to the English club every Saturday .
5. What you (d) now? – I (grow) some flowers .
6. My father (travel ) to Nha Trang next week.
7. students often ( go) to the school cafeteria at lunchtime .
8. You can (find ) math books on the racks in the middle .
Bạn đang xem tài liệu "Đề kiểm tra môn Tiếng Anh Lớp 7 – Đề 7 – Trần Đức Huyền", để tải tài liệu gốc về máy bạn click vào nút DOWNLOAD ở trên
ĐỀ 7
I. Chọn từ hoặc cụm từ thích hợp để điền vào chỗ trống :
We have four  today .
a. classes	b. class	c. period 
The class  at 7 o'clock in the morning .
 a. start	b. starts	c. ends
 do you go to bed? At half past seven .
a. What	b. When	c. What time 
 does Nga have history ? – On Monday and Thursday .
a. When 	b. What time 	c. How long 
He looks different  his father .
a. at	b. with	c. from
Students have two  each day .
a. 20-minutes breaks	b. 20- minute breaks	c. 20-minute break.
The United States's Library of Congress is one of the  libraries in the world .
a. large	b. largest	c. larger than
 novels are very interesting .
a. These	b. This	c. That
II. Cho dạng hoặc thì đúng của động từ cho trong ngoặc :
Lan and Hoa (read)  in the library at the moment .
we ( not come)  here tomorrow morning.
Listen! The girl (play)  the piano.
Nam  (go) to the English club every Saturday .
What  you  (d) now? – I  (grow) some flowers .
My father (travel )  to Nha Trang next week.
students often ( go)  to the school cafeteria at lunchtime .
You can (find )  math books on the racks in the middle .
III. Đặt câu hỏi cho các cụm từ gạch dưới :
It's quarter past ten ... 
we have Chemistry on Wednesday and Friday .
My family has lunch at 11.30... 
They are playing soccer in the stadium... 
Quang is studying math ... 
The children are going to the museum by bus .
The school library has about two thousands books .
You can find newspaper on the rack near the librarian's desk .
IV. Đọc lá thư , rồi trả lời câu hỏi T (true) hoặc F(false) .
	Dear Peter,
	Thank you for your letter. It's very interesting to know about schools in the USA .
	I think schools in Viet Nam are a little different . Vietnamese students usually wear school uniform . Classes start at 7.00 each morning and end at 11.15 in the afternoon . Students have 30-minute break after three periods . At break , many students play games . Some go to the canteen and buy something to eat or drink . others talk together . Our school year last for nine months , from September to May . Then we have a three – month summer vacation .
	Please write soon and tell me about your summer vacation .
	Your friend,
	Hoa 
Questions .
Schools in Viet Nam are different from schools in the USA . 5
Vietnamese students do not usually wear school uniform .	5
Classes last from seven to a quarter past eleven .	5
Students have a 30-minute break after two periods . 	5
Most students go to the canteen at break. 	5
The school year begin on September .	5
The summer vacation last for three months .	5
VI. Hoàn tất các câu sau theo các từ gợi ý sao cho tương ứng với câub trên :
Where do you live ? What's .. ?
The blue dress is cheaper than the red one . The red dress  .
Nam is taller than any students in his class . Nam is the 
We have a break that lasts thirty minutes . We have a 
When is your birthday ? What's .. 
VII. Dùng các moan học cho sẵn trong khung , hoàn tất các câu dưới .
Physics Biology Geography Math History Art Electronic Literature 
We study different countries , rivers , mountain ranges in  
We study how to repair household appliances in  
We study how things work in  
We study graphs , equations , calculation in  
We study the life of plants and animals in  
We study how to draw a pictures in  
We study past events in Viet Nam as well as different countries in  
We study stories , poems , and write essays in  
VIII. Cho dạng hoặc thì thích hợp của các động từ cho trong ngoặc :
	My brother (be)  a journalist . He (work)  for a newspaper office in Ho Chi Minh city . Every day , he (go)  to work at 6.30 a.m. and (come)  back home at 5p.m. He often (travel)  to HaNoi on business . he (enjoy)  his works very much . In his free time , my brother (learn)  to play the guitar . he can ( play)  pretty well .Now all my family (be)  in the living room .My brother (play)  the guitar and we (listen)  carefully.
VIII. Viết câu dùng từ gợi ý , dùng thì hiện taị đơn (present simple) hoặc hiện tại tiếp diễn (present progressive tenses)
Minh / go swimming / every afternoon . .. 
my brothers / play / tennis / at the moment ... 
I / read / an interesting novel . .. 
We / sometimes / play / marbles at recess . .. 
Some students / eat and drink / at this time ... 
my father / watch / the news on TV. .. 
Phong / play / computer games / with his friends / now ,

Tài liệu đính kèm:
de_kiem_tra_mon_tieng_anh_lop_7_de_7_tran_duc_huyen.doc