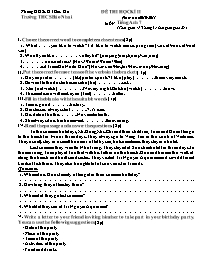 IV. Read the passage and answer the questions. (2p)
 In the summer holidays, Mr.Hung, Mrs.Chi and their children, Tuan and Hoa often go to the beach for two or three days. They always go to Vung Tau in the south of Vietnam. They usually stay in a small house or a flat by sea, but sometimes they stay in a hotel.
 Last summer they went to Nha Trang. They stayed at Sunshine hotel for three days. In the morning, Tuan played football with his father on the beach. Hoa and her mother walked along the beach and built sandcasles. They visited Tri Nguyen Aquarium and saw different kinds of fish there. They also bought a lot of souvenirs for friends.
Bạn đang xem tài liệu "Đề thi học kì II môn Tiếng Anh 7 – Năm học 2010-2011", để tải tài liệu gốc về máy bạn click vào nút DOWNLOAD ở trên
Phòng GD & ĐT Bắc Hà
Trường THCS Bảo Nhai
 ĐỀ THI HỌC KÌ II
Năm học 2010-2011
 MÔN: Tiếng Anh 7
 ( Thời gian 45' không kể thời gian giao đề )
I. Choose the correct word to complete each sentence.(2p)
 1. Whatyou like to watch? I'd like to watch music program. (would/should/shall/ will)
 2. Would you likevolleyball ? (playing/play/to play/will play)
 3.  a nice adress! (How/Where/Which/What)
 4. .is it from Ha Noi to Hue? (How much/How far/How many/How long)
II. Put the correct form or tense of the verbs in the brackets.( 3p)
 1. Do you prefer(take) part in sports?- I like (play).. them very much.
 2. Ba went to the doctor because he (be).. sick.
 3. Mai (not watch).TV every night. But she (watch).it now.
 4. This medicine will make you (feel).. better.
III. Fill in the blanks with the suitable words. (1p)
 1. Tam is good.. history. 
 2. Our classes always start.. 7.15 a.m.
 3. His date of birth is.. November tenth.
 4. She always does her homework .the evening.
IV. Read the passage and answer the questions. (2p)
 In the summer holidays, Mr.Hung, Mrs.Chi and their children, Tuan and Hoa often go to the beach for two or three days. They always go to Vung Tau in the south of Vietnam. They usually stay in a small house or a flat by sea, but sometimes they stay in a hotel.
 Last summer they went to Nha Trang. They stayed at Sunshine hotel for three days. In the morning, Tuan played football with his father on the beach. Hoa and her mother walked along the beach and built sandcasles. They visited Tri Nguyen Aquarium and saw different kinds of fish there. They also bought a lot of souvenirs for friends.
Questions
 1. Where does Hoa's family often go for their summer holliday?
..
 2. How long they often stay there?
..
 3. Where did they go last summer?
..
 4. What did they see at Tri Nguyen Aquarium?
..
V. Write a letter to your friend inviting him/her to take part in your birthday party. You can use the following suggestions. (2p)
 - Date of the party
 - Place of the party
 - Time of the party
 - Activities at the party
 - Food and drinks
HƯỚNG DẪNCHẤM ĐỀ THI HỌC KÌ II
 Năm học 2010-1011
Môn: Tiếng anh 7 
 I. Choose the correct word to complete each sentence. (2p)
 	1. would 
 	2. to play 
 3. What
 4. How far 
II. Put the correct form or tense of the verbs in the brackets. (3p)
 1. to take/ talking ; playing 
 2. was
 3. doesn't watch; is watching 
 4. feel
III. Fill in the blanks with the suitable words. (1p)
 1. at 
 2. at
 3. on
 4. in
IV. Read the passage and answer the questions. (2p)
 1. They often go to the beach for their summer holliday.
 2. They often stay there for tow or three days.
 3. Last summer, they went to Nha Trang.
 4. They saw different kinds of fish at Tri Nguyen Aquarium
V.Write a letter to your friend inviting him/her to take part in your birthday party. You can use the following suggestions. (2p)
 (suggestion)
 Dear Nam,
 My birthday party is on Saturday, December 2nd. The party will be my house at 24, Le Thanh Tong Street, Ha Noi. It will be at 7.00 pm.
 I will certain prepare some delicious food and we will drink Coke and mineral water. We will sing some English songs at the party,too.
 I hope you will come and join the fun.
 Love,
 Phuong Anh

Tài liệu đính kèm:
de_thi_hoc_ki_ii_mon_tieng_anh_7_nam_hoc_2010_2011.docx