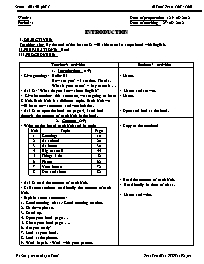 Teacher's activities
1. Introduction: (15')
– Give greetings: Hello/ Hi
 How are you? – I am fine. Thanks.
 What is your name? – My name is
– Ask Ss: "What do you know about English"
– Give instruction: this semester, we are going to learn 8 Unit. Each Unit is a different topic. Each Unit we will learn new structures and vocabularies.
– Ask Ss to open the book on page 4, 5 and look through the content of each Unit in the book.
Bạn đang xem tài liệu "Giáo án môn Tiếng Anh Lớp 6 – Period 1: Introduction", để tải tài liệu gốc về máy bạn click vào nút DOWNLOAD ở trên
 Week: 1	 Date of preparation: 25/ 08/ 2012
 Period: 1	 Date of teaching: 27/ 08/ 2012
INTRODUCTION
 I. OBJECTIVES:
 Teaching aim: By the end of the lesson Ss will able to make acquainted with English.
 II. PREPARATIONS: Book
 III. PROCEDURES:
Teacher's activities
Students' activities
Introduction: (15')
- Give greetings: Hello/ Hi
 How are you? – I am fine. Thanks. 
 What is your name? – My name is 
- Ask Ss: "What do you know about English"
- Give instruction: this semester, we are going to learn 8 Unit. Each Unit is a different topic. Each Unit we will learn new structures and vocabularies.
- Ask Ss to open the book on page 4, 5 and look through the content of each Unit in the book.
Content: (25')
- Write on the board each Unit and its topic
Unit
Topic
Page
1
Greetings
10
2
At school
20
3
At home
30
4
Big or small
44
5
Things I do
52
6
Places
62
7
Your house
72
8
Out and about
82
- Ask Ss read the content of each Unit.
- Call some students read loudly the content of each Unit.
- Explain some sentences:
1. Good morning class./ Good morning teacher.
2. Sit down please.
3. Stand up.
4. Open your book page 
5. Close your book page .
6. Are you ready?
7. Look at your book.
8. Look at the picture.
9. Work in pair. / Work with your partner.
10. Work in group.
11. Thank you./ Thanks.
3. Homework: (5')
- Ask Ss to read and prepare lesson Unit 1: A1, 2, 3 , 4/ p.10, 11
- Listen.
- Listen and answer.
- Listen.
- Open and look at the book.
- Copy to the notebook
- Read the content of each Unit.
- Read loudly in front of class.
- Listen and write.
Take note.
COMMENTS:
 ___________________________________b"&"a__________________________________

Tài liệu đính kèm:
giao_an_mon_tieng_anh_lop_6_period_1_introduction.doc