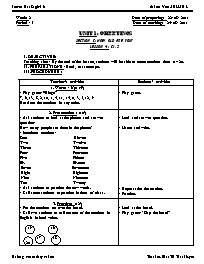 2. Presentation: (10')
– Ask students to look at the picture and answer question:
How many people are there in the picture?
– Introduce numbers:
One Eleven
Two Twelve
Three Thirteen
Four Fourteen
Five Fifteen
Six Sixteen
 Seven Seventeen
 Eight Eighteen
 Nine Nineteen
Ten Twenty
– Ask students to practice the new words.
– Call some students to practice in front of class.
Bạn đang xem tài liệu "Giáo án môn Tiếng Anh Lớp 6 – Unit 1: Greetings – Section C: How old are you? – Lesson 4: C1,2", để tải tài liệu gốc về máy bạn click vào nút DOWNLOAD ở trên
 Week: 2 	Date of preparing: 22/ 08/ 2011
 Period: 5	 	 Date of teaching: 24/ 08/ 2011
UNIT 1: GREETINGS
Section C: HOW OLD ARE YOU?
Lesson 4: C1- 2
I. OBJECTIVES:
Teaching aims: By the end of the lesson, students will be able to count numbers from 0 – 20.
II. PREPARATIONS: Book, cassette tape. 
III. PROCEDURES:
Teacher's activities
Students' activities
1. Warm - Up: (5')
- Play game: "Bingo"
7, 6, 13, 8, 2, 10, 1, 4, 11, 14, 0, 3, 5, 12, 9
Read out the numbers in any order.
2. Presentation: (10')
- Ask students to look at the picture and answer question:
How many people are there in the picture?
- Introduce numbers:
One Eleven
Two Twelve
Three Thirteen
Four Fourteen
Five Fifteen
Six Sixteen 
 Seven Seventeen
 Eight Eighteen 
 Nine Nineteen 
Ten Twenty 
- Ask students to practice the new words. 
- Call some students to practice in front of class.
3. Practice: (12')
- Put the numbers on over the board.
- Call two students to call out one of the numbers in English in loud voice.
 19 16 
 17 18 
 20 
4. Production: (13')
- Write the words in a list and the numbers in wrong order.
- Get students to come to the board to match the words with the numbers.
+ Six 9
+ Seven 7
+ Eight 10
+ Nine 6
+ Ten 8
+ One 5
+ Five 13
+ Fifteen 2
+ Three 11 
+ Eleven 4
+ Two 14
+ Twelve 15
+ Four 1
+ Thirteen 3
- Call some students to read numbers.
5. Homework: (5')
- Ask students to learn by heart numbers from 0 – 20
- Prepare next lesson 5: Unit 1: C3, 4/ p. 18, 19 
- Play game.
- Look and answer question. 
- Listen and write.
- Repeat after the teacher.
- Practice.
- Look at the board.
- Play game: "Slap the board" 
- Listen to the teacher.
- Go to the board to match the words with the numbers. 
- Read the numbers.
Take note.
IV. COMMENTS:
-------------------------------------------------------------------------------------------------------------------------------------------------------------------------------------------------------------------------------------------------------------- 
_________________________________________b"&"a_________________________________

Tài liệu đính kèm:
giao_an_mon_tieng_anh_lop_6_unit_1_greetings_section_c_how_o.doc