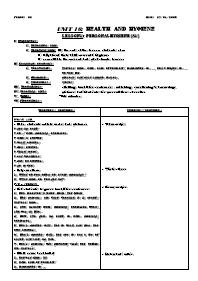 I. Objectives:
 1. Education aim:
 2. Teaching aim: By the end of the lesson, students can:
  talk about their daily personal hygiene.
  consolidate the present and past simple tenses.
II. Language contents:
 1. Vocabulary: harvest time, take care of yourself, remember to , don't forget to be bad for
2. Grammar: present and past simple tenses.
 3. Structures: (none)
III. Techniques: eliciting, true/false sentences , matching, questioning & answering.
IV. Teaching aids: pictures and handouts for presentation, cassette.
V. Time: 45 minutes
Bạn đang xem tài liệu "Giáo án môn Tiếng Anh Lớp 7 – Period 62, Unit 10: Health and hygiene – Lesson 1: Personal hygiene (A1)", để tải tài liệu gốc về máy bạn click vào nút DOWNLOAD ở trên
Period: 62	Date: 28/01/2005
UNIT 10: HEALTH AND HYGIENE
LESSON 1: PERSONAL HYGIENE (A1)
I. Objectives:
	1. Education aim:
	2. Teaching aim: By the end of the lesson, students can:
	˜ talk about their daily personal hygiene.
	˜ consolidate the present and past simple tenses.
II. Language contents:
	1. Vocabulary:	harvest time, take care of yourself, remember to , don't forget to  	be bad for 
2. Grammar:	 	present and past simple tenses.
	3. Structures:	(none) 	
III. Techniques:	eliciting, true/false sentences , matching, questioning & answering.
IV. Teaching aids:	pictures and handouts for presentation, cassette.
V. Time:	45 minutes
VI. Procedures:
Teacher's activities
Students' activities
Warm – up.
- Have students match words and pictures.
+ get up early
+ do / take morning exercises
+ take a shower
+ wash clothes
+ iron clothes
+ brush teeth
+ eat breakfast
+ put on clothes
+ go to bed
- Ask questions 
1. What do you often do every morning?
2. What time do you get up?
Pre – reading. 
- Get students to guess true/false sentences 
1. Hoa received a letter from her Mom.
2. Her parents are busy because it is nearly harvest time.
3. She usually took morning exercises when she was in Hue.
4. Now she gets up early to take morning exercises.
5. Hoa's mother tells her to wash and iron her own clothes.
6. Hoa's mother tells her not to eat a lot of candy and stay up late.
7. Hoa's parents will probably visit her before the harvest.
- Elicit some vocabulary 
1. harvest time (n) 
2. take care of yourself
3. remember to 
4. don't forget to 
5. be bad for 
- Ask students to give feedback 
While – reading.
- Ask students to read the letter silently to check the true/false sentences 
- Have students give feedback 
1.T , 2.T , 3.F , 4.T , 5.T , 6.T , 7.F
- Have students read and answer the questions in groups.
- Ask students to read the answers.
a. They are busy because it is nearly harvest time.
b. Hoa's grandfather helps them on the farm.
c. They will go to Ha Noi soon, after the harvest.
d. Now Hoa is different. She gets up early and does morning exercises every day.
e. Hoa's mother wants her to do her own washing and ironing; and doesn't want her to eat too much candy and stay up late.
- Ask students to practice asking and answering the questions in pairs.
- Call on some students to read the letter aloud and remind them of the present and past simple tenses.
Post – reading. 
- Ask students to talk about their daily activities in order to keep their personal hygiene.
- Call on some students to read their answers before the class.
¯ Suggested questions 
1. What do you often do every morning / afternoon / evening?
2. Do you get up early / do morning exercises / brush your teeth before bed time /  ?
- Team works
- Whole class.
- Group works. 
- Listen and write. 
- Give feedback 
- Individual work 
- Give feedback 
- Group works. 
- Pair works. 
- Individual work 
- Group works. 
- Talk before the class.
Homework
1. Write a short paragraph about their daily personal hygiene.
2. Do the exercises 1 , 2 / 62 (workbook) 
Remarks
------------------------------------------------------------------------------------------------------------------------------------------------------------------------------------------------------------------------------------------------------------------------------------------------------------------------------------------------------------------------------------------------------------------------------------------------------------------------------------------------------------------------------------------------------------------------------------------------------------------------------------------------------------------------------------------------------------------------------------------------------------------------------------------
_________________________________________b"&"a_________________________________________ 

Tài liệu đính kèm:
giao_an_mon_tieng_anh_lop_7_period_62_unit_10_health_and_hyg.doc