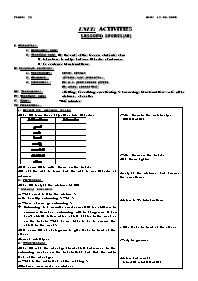 I. Objectives:
 1. Education aim:
 2. Teaching aim: By the end of the lesson, students can:
  learn how to make and use Adverbs of manner.
  do sentence transformation.
II. Language contents:
 1. Vocabulary: cycle, cyclist
2. Grammar: Adverbs and Adjectives.
 3. Structures: He is a good soccer player.
 He plays soccer well
III. Techniques: eliciting, describing, questioning & answering, transformation, role play.
IV. Teaching aids: pictures, cassette.
V. Time: 45 minutes
Bạn đang xem tài liệu "Giáo án môn Tiếng Anh Lớp 7 – Period 82, Unit: Activities – Lesson 3: Sports (A5)", để tải tài liệu gốc về máy bạn click vào nút DOWNLOAD ở trên
Period: 82	Date: 18/03/2005
UNIT: ACTIVITIES
 LESSON 3: SPORTS (A5)
I. Objectives:
	1. Education aim:
	2. Teaching aim: By the end of the lesson, students can:
	˜ learn how to make and use Adverbs of manner.
	˜ do sentence transformation.
II. Language contents:
	1. Vocabulary:	cycle, cyclist
2. Grammar:	 	Adverbs and Adjectives.
	3. Structures:	He is a good soccer player.
	He plays soccer well	
III. Techniques:	eliciting, describing, questioning & answering, transformation, role play.
IV. Teaching aids:	pictures, cassette.
V. Time:	45 minutes
VI. Procedures:
1/Review the previous lesson.
-Have SS form these adjectives into Adverbs.
-Call some SS to write them on the board.
-SS say the way to form and the way to use Adverbs of manner.
2/Pre-reading
-Have SS look at the pictures 5/133
* Eliciting questions
+ What sport is it in the picture ?
+ Do you like swimming ? Why ?
+ Where can we go swimming ?
Swimming is a popular sport especially for children in summer. However, swimming will be dangerous if you don't strictly follow water safety advice in the pool or on the beach. What do we have to do to ensure the safety in the pool ?
-Call some SS of each group to give ideas in front of the class.
-Correct mistakes.
3/While-reading
-Have SS read the passage about safety awareness in the swimming pool or on the beach. Read and find the main idea of the passage.
+ What is the main idea of the reading ?
-Introduce new words or phrases
summer is on its way, water safety awareness, aim, pool lifeguard, pool edge, obey, be aware of, red and yellow flags.
-Call some SS to give the main idea in front of the class.
-Correct mistakes.
-Now SS read again and change the adjectives in brackets to adverbs.
-Let them cross-check the answers with their partners.
-Call some SS to read the answers in front of the class.
-Make correction.
-Call some SS to read the complete passage in front of the class.
4/Post-reading
-Have SS read again the passage, work in groups to talk about the water safety awareness .
-Call some SS of each group to tell them in front of the class.
-Say again the position of the adverbs .
5/Homework
-Rewrite the water safety awareness.
-Learn the way to form adverbs and the position of the adverbs.
-Exercises A 1,2,3,4 (workbook)
6/Remarks / Marks
-Write them in the notebooks.
 (Individually)
-Write them on the board.
-Say them again.
-Look at the pictures and answer the questions.
-Listen to T's introduction.
- Give ideas in front of the class.
-Work in groups.
-Listen and repeat
 (chorally – individually)
- Give the main idea in front of the class.
-Group / Pairworks
- Cross-check
- Read the answers in front of the class.
Keys
- Read the complete passage in front of the class.
-Groupworks
- Tell them in front of the class.
-Say them again

Tài liệu đính kèm:
giao_an_mon_tieng_anh_lop_7_period_82_unit_activities_lesson.doc