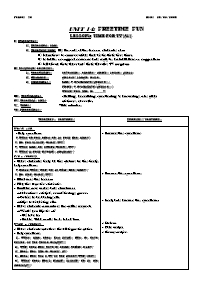 I. Objectives:
 1. Education aim:
 2. Teaching aim: By the end of the lesson, students can:
  learn how to express what they do in their free time.
  to invite or suggest someone and reply to an invitation or suggestion.
  tell about their favor and their favorite TV program.
II. Language contents:
 1. Vocabulary: adventure, cricket, prefer, sound, guess
2. Grammar: present simple tense.
 3. Structures: Like + to-infinitive/gerund
 Prefer + to-infinitive/gerund
 Would you like to ?
III. Techniques: eliciting, describing, questioning & answering, role play.
IV. Teaching aids: pictures, cassette.
V. Time: 45 minutes
Bạn đang xem tài liệu "Giáo án môn Tiếng Anh Lớp 7 – Period 86, Unit 14: Freetime fun – Lesson 1: Time for TV (A1)", để tải tài liệu gốc về máy bạn click vào nút DOWNLOAD ở trên
Period: 86	Date: 25/03/2005
UNIT 14: FREETIME FUN
LESSON 1: TIME FOR TV (A1)
I. Objectives:
	1. Education aim:
	2. Teaching aim: By the end of the lesson, students can: 
	˜ learn how to express what they do in their free time.
	˜ to invite or suggest someone and reply to an invitation or suggestion.
	˜ tell about their favor and their favorite TV program.
II. Language contents:
	1. Vocabulary:	adventure, cricket, prefer, sound, guess	
2. Grammar:	 	present simple tense.
	3. Structures:	Like + to-infinitive/gerund
	Prefer + to-infinitive/gerund
	Would you like to ?	
III. Techniques:	eliciting, describing, questioning & answering, role play.
IV. Teaching aids:	pictures, cassette.
V. Time:	45 minutes
VI. Procedures:
Teacher's activities
Students' activities
Warm – up.
 - Ask questions
 + What do you often do in your free time?
 + Do you usually watch TV?
 + What time do always watch TV?
 + What is your favorite program?
Pre – reading. 
- Have students look at the picture in the book, ask questions
 + Guess what they do in their free time?
 + Do they watch TV?
- Introduce the lesson.
- Play the tape for students 
- Explain new words and structures.
 + adventure, cricket, sound boring, guess.
 + Prefer to do /doing sth
 + Like to do/doing sth.
- Have students remember the polite request.
 + Would you like to ?
 - I'd love to.
 - Great. That would be a lot of fun.
While – reading.
- Have students practice the dialogue in pairs.
- Ask questions
 1. What time does Lan invite Hoa to have dinner at her house tonight? 
 2. Why does Hoa have to come before 6.15?
 3. Does Hoa like to watch it?
 5. Does Hoa has a TV at her place? Why not?
 6. What does Hoa's family usually do in the morning?
 7. What does Lan's family usually do in the morning?
- Have students do the exercise "Now choose the best answer"
- Ask students to give feedback 
a) C , b) A , c) B , d) D , e) D.
- Call students to read the answers.
Post – reading. 
- Have students to write 'NETWORKS'
TV PROGRAMS
 1. Children's program
 2. Cartoon
 3. Film
 4. Musical TV / Music Show / Music gift 
 5. The road to the Olympia Peak.
 6.
- Answer the questions
- Answer the questions
- Look and answer the questions.
- Listen.
- Pair works. 
- Group works. 
- Group works. 
- Read the answers.
- Team works 
Homework
- Reread the dialogue.
- Exercises A 1,2/p 87,88 (workbook)
Remarks
------------------------------------------------------------------------------------------------------------------------------------------------------------------------------------------------------------------------------------------------------------------------------------------------------------------------------------------------------------------------------------------------------------------------------------------------------------------------------------------------------------------------------------------------------------------------------------------------------------------------------------------------------------------------------------------------------------------------------------------------------------------------------------------
_________________________________________b"&"a_________________________________________ 

Tài liệu đính kèm:
giao_an_mon_tieng_anh_lop_7_period_86_unit_14_freetime_fun_l.doc