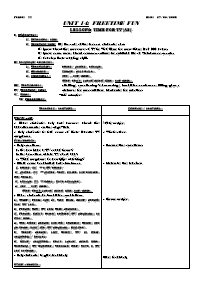 I. Objectives:
 1. Education aim:
 2. Teaching aim: By the end of the lesson, students can:
  know about the presence of TV in Viet Nam for more than last 100 years.
  know some more about common culture in spiritual life of Vietnamese people.
  develop their reading skill.
II. Language contents:
 1. Vocabulary: owner, gather, change,
2. Grammar: Simple past tense.
 3. Structures: not any more.
 They don't spend much time any more.
III. Techniques: eliciting, questioning & answering, true/false sentences, filling gaps,.
IV. Teaching aids: pictures for presentation, handouts for practice.
V. Time: 45 minutes
VI. Procedures:
Bạn đang xem tài liệu "Giáo án môn Tiếng Anh Lớp 7 – Period 88, Unit 14: Freetime fun – Lesson 2: Time for TV (A3)", để tải tài liệu gốc về máy bạn click vào nút DOWNLOAD ở trên
Period: 88	Date: 27/03/2005
UNIT 14: FREETIME FUN
LESSON 2: TIME FOR TV (A3)
I. Objectives:
	1. Education aim:
	2. Teaching aim: By the end of the lesson, students can:
	˜ know about the presence of TV in Viet Nam for more than last 100 years.
	˜ know some more about common culture in spiritual life of Vietnamese people. 
	˜ develop their reading skill.
II. Language contents:
	1. Vocabulary:	owner, gather, change, 
2. Grammar:	 	Simple past tense.
	3. Structures:	not  any more.
	They don't spend much time any more. 	
III. Techniques:	eliciting, questioning & answering, true/false sentences, filling gaps,.
IV. Teaching aids:	pictures for presentation, handouts for practice.
V. Time:	45 minutes
VI. Procedures:
Teacher's activities
Students' activities
Warm – up
- Have students ask and answer about the advertisements on the page 141.
- Ask students to tell some of their favorite TV programs.
Pre-reading
- Ask questions 
 a. Do you have a TV set at home?
 b. Do you often watch TV every day?
 c. What programs do you kike watching? 
- Elicit some vocabulary and structures.
 1. owner (n) ª a TV owner
 2. gather (v) ª gather both inside and outside the house.
 3. change (v) ª times have changed.
 4. not  any more.
They don't spend much time any more.
- Have students do true/false prediction.
1. Thirty years ago in Viet Nam, many people had TV sets.
2. People with TV sets were popular.
3. People didn't watch colored TV programs at that time.
4. The older people and the children would not go home until the TV programs finished.
5. Today people still watch TV in their neighbors' houses.
6. Many neighbors don't spend much time watching TV together because they have a TV set at home.
- Ask students to give feedback 
While reading
- Ask SS to read the text silently to check the true/false sentences.
1. F
2. T
3. T
4. T
5. F
6. T
- Ask questions 
1. Did many people in Viet Nam have TV sets in their home thirty years ago?
ª No, they didn't.
2. What did they always do after dinner?
ª After dinner, they gathered both inside and outside the TV owners' houses to watch TV.
3. What color were the TV programs thirty years ago
ª They were black and white programs.
4. Where do people watch TV today? Why?
ª They watch TV at home. Because many families have a TV set now.
5. Do they spend much time together?
ª No, they don't.
- Ask students to give feedback and read the answers aloud.
- Ask students to read the text to complete the summary.
- Ask students to give feedback 
 1. people 2. not 3. TV 4. popular
 5. evening 6. gather 7. They 8. today
 9. have 10. life 11. know
- Call on some students to read the summary aloud.
Post reading
- Ask SS to complete the table.
30 years ago
Today
- Very few people had TV sets
- They gathered both inside and outside their neighbors' houses to watch TV.
- They watched black and white programs
- They spent much time watching TV together.
- They watched TV every night.
- Ask students to give feedback 
- Pair works. 
- Whole class
- Answer the questions. 
- Listen to the teacher.
- Group works. 
Give feedback 
- Read silently and check the answers
- Pair works. 
- Read the answers aloud
- Group work
- Give feedback 
- Read the summary aloud.
- Whole class.
- Write the answers on the board.
Homework 
1. Reread the text
2. Redo the exercise.
3. Do the exercise A4/p.89 (workbook)
Remarks

Tài liệu đính kèm:
giao_an_mon_tieng_anh_lop_7_period_88_unit_14_freetime_fun_l.doc