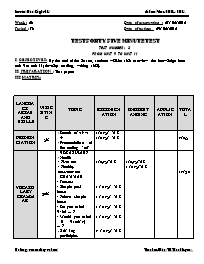 IV. TEST:
I/ Choose the word which has the underlined part pronounced differently from the others. (0.5 pt)
1. a. library b. recycle c. family d. easy
2. a. used b. returned c. mashed d. cleaned
 II/ Choose the best option (a, b, c or d) to complete each sentences. (3.5 pt)
1. Cool the burns immediately so as ———- tissuse damages.
a. ease b. relieve c. to minimize d. to maximize
2. These medicine can ———– your headache.
a. elevate b. ease c. revive d. affect
3. Do you mind if I ———– your dictionary.
a. borrowed b. to borrow c. borrowing d. borrow
Bạn đang xem tài liệu "Giáo án môn Tiếng Anh Lớp 8 – Test forty five minute test – Test number: 3 from unit 9 to unit 11", để tải tài liệu gốc về máy bạn click vào nút DOWNLOAD ở trên
Week: 26	 Date of preparation: 27/ 02/ 2012
Period: 76	 Date of testing: 29/ 02/ 2012
TEST FORTY FIVE MINUTE TEST
TEST NUMBER: 3
FROM UNIT 9 TO UNIT 11
I. OBJECTIVES: By the end of the lesson, students will be able to review the knowledge from unit 9 to unit 11; develop reading, writing skill.
II. PREPARATION: Test papers
III. MATRIX:
LANGUAGE AREAS 
AND
SKILLS
WEIGHTING
TOPIC
RECONIGNATION
UNDERSTANDING
APPLICATION
TOTAL
PRONUNCIATION
5%
Sounds of /ai/ vs /i/
Pronunciation of the ending "ed"
1/0.25/ M.C
1/0.25/ M.C
2/0,5 
VOCABULARY
GRAMMAR
30%
VOCABULARY
Health
- First aid
- Healthy environment
GRAMMAR
• Tenses: 
- Simple past tense
- Future simple tense
• Do you mind + V-inf ..?
• Would you mind + if + V(ed/ 2) ..?
Ed/ Ing participles
Passive forms
Adj + to –inf .
1/0,25/M.C
1 / 0.25/ M.C
1 / 0.25/ M.C
1 / 0.25/ M.C
1 / 0.25/ M.C
2 / 0.25/ M.C
2 / 0.25/ M.C
1 / 0.25/ M.
1/0,25/MC
1 /0.25/M.C
12/3.0
SPEAKING
5%
Make and respond to promises
Make and respond to formal requests by using "Do/ Would you mind ..?
1 / 0.25/ M.C 
1 / 0.25/ M.C
2/0,5
READING
30%
2 reading comprehension tests (110-140 words) about 
- First aid
- Holidays and vacation
2/0,25/T/F
2/0,25/Q-A
2/ 0,25 / T / F 
1/ 0,25 /Q - A
7/2. 5
WRITING
30%
- Would you mind ..?
- It's + adj + to–inf ..?
- Passive forms
* A trip to Ha Long Bay
1/0,5/Trans.
1/0,5 /Trans
2/ 0,5 /Trans
6 / 0,25 Guided writing 
10/3.5
IV. TEST:
I/ Choose the word which has the underlined part pronounced differently from the others. (0.5 pt)
1. a. library 	 	b. recycle	c. family	d. easy
2. a. used	 	b. returned	 	c. mashed	d. cleaned 
 II/ Choose the best option (a, b, c or d) to complete each sentences. (3.5 pt) 
1. Cool the burns immediately so as ---------- tissuse damages.
a. ease	b. relieve 	c. to minimize	d. to maximize
2. These medicine can ----------- your headache.
a. elevate	b. ease	c. revive	d. affect
3. Do you mind if I ----------- your dictionary.
a. borrowed	b. to borrow	c. borrowing	d. borrow
4. The boy -------------- next to Hoa is my brother.
a. sit	b. sits	c. sitting	d. to sit
5. Would you mind if I --------------- on the television?
a. turned	b. turn	c. will turn	d. turning
6. It's dangerous ------------ in this river.
a. to swim	b. swim	c. swimming	d. swims
7. A: What time will she be here? - B: She ------------- here in two hours.
a. was	b. is	c. will	be	d. will
8. The glass ---------------- up into small pieces.
a. broken 	b. is broken	c. are broken	d. break
9. Lan ---------- a day to remember last week.
a. had	b. have	c. has	d. having
The project ------------- before Tet.
 a. will finish	b. be finished	c. will be finished	d. will finished
The box ------------- green is two dollars.
 a. painted	b. paint	c. painting	d. to paint
 Household and garden waste is made into ------------- 
a. plants	b.garbage	c. vegetable matter	d. compost
I promise I'll study harder. - --------------
 a. Sure. 	b. I'm afraid not. 	c. I'm glad.	d. No, thank you.
 14. Do you mind closing the door? - ---------------
 a. Yes, I do.	b. No, I don't mind.	c. Yes, I'd like.	d. Yes, I am.
III. READING
Read the passage then write True (T) or False (F) (1 pt)
A boy was riding a bike when he had an accident. He fell off his bike and his head on the road. His head was hurt, it was bleeding. However, he was still conscious. It was an emergency so people called an ambulance, in order to take him to hospital. Some people tried to stop the bleeding by using a handkerchief to cover the wound. Then they put pressure on it and held tight. After ten minutes, the ambulance arrived and people took the victim to hospital.
1. ---------- The boy had a bike accident. 
2. ---------- His left hand was broken. 
3. ---------- He was still unconscious. 
4. ---------- He was taken to hospital after ten minutes.
Read the passage then answer the questions ( 1.5 pt)
Dalat is the capital of Lam Dong province in Viet Nam. Its name derives from the language of the local ethnic group Lat and its meaning is "Stream of the Lat". In Viet Nam, Dalat is a popular tourist destination. It is famous for its temperature climate, beautiful sights such as waterfalls and lakes. It is also famous for vegetables and flowers such as orchids and roses. There is wine – making industry, too. The average temperature is 17 C, and doesn't rise above 19 C in the hotest season. Its temperature climate is ideal for agricultural production.	
1. What is Dalat famous for?
[ 	
2. What does its name derive from?
[ .
3. Is its temperature climate ideal for agricultural production?
[ 	
V/ Rewrite the following sentences. (2 pt)
1. Could you wait for a moment?
[ Would you mind	
This exercise is easy to understand.
[ It's ..
People speak English over the world.
[ English 	
4. People can recycle car tires to make pipes and floor coverings.
[ Car tires ----------------------------------------------------------------------------------------------
VI/ Complete these sentences, use the words or phrases as prompts (1.5 pt)
1. Last week/ I / have / wonderful time/ Ha Long Bay.
[ 	
2. I/ get/ there/ train.
	[ 	
3. The weather / be / warm / lovely.
[ 	
4. I/ visit/ magnificent caves/ beautiful limestone islands.
[ 	
5. There/ be/ quiet/ sand beaches.
[ .
6. I/ stay/ a hotel/ Ha Long city.
 [ ..
V. KEY:
I/ Choose the word which has the underlined part pronounced differently from the others. (0.5 pt) Each correct sentence 0.25 pt
1. b 	 	2. c 
 II/ Choose the best option (a, b, c or d) to complete each sentences. (3.5 pt) 
	Each correct sentence 0.25 pt 
1. c	8. b
2. b	9. a
3. d	10. c
4. c	11. a
5. a	12. d
6. b	13. c
7. c	14. b
III. READING
Read the passage then write True (T) or False (F) (1 pt)
Each correct sentence 0.25 pt
1. T	2. F	3. F	4. T
B. Read the passage then answer the questions ( 1.5 pt)
	Each correct sentence 0.5 pt
1. [ It is famous for its temperature climate, beautiful sights such as waterfalls and lakes. It is also famous for vegetables and flowers such as orchids and roses. There is wine – making industry, too./ 
It is famous for its temperature climate, beautiful sights such as waterfalls and lakes./ It is famous for vegetables and flowers such as orchids and roses.
2. [ Its name derives from the language of the local ethnic group Lat and its meaning is "Stream of the Lat"
3. [ Yes, it is.
V/ Rewrite the following sentences. (2 pt)
	Each correct sentence 0.5 pt
1. [ Would you mind waiting for a moment.
2. [ It's easy to understand this exercise.
3. [ English is spoken all over the world.
4. [ Car tires can be recycled to make pipes and floor coverings.
VI/ Complete these sentences, use the words or phrases as prompts (1.5 pt)
Each correct sentence 0.25 pt
1. [ Last week I had a wonderful time in Ha Long Bay. 
2. [ I got there by train.
3. [ The weather was warm and lovely.
4. [ I visited many magnificent caves and beautiful limestone islands.
5. [ There were quiet sand beaches.
6. [ I stayed in a hotel in Ha Long city.
VI. COMMENTS:
----------------------------------------------------------------------------------------------------------------------------------------------------------------------------------------------------------------------------- ---------------------------------------------------------------------------------------------------------------------------------------------------------------------------------------------------------------------------------------------------------- -----------------------------------------------------------------------------------------------------------------------
---------------------------------------------------------------------------------------------------------------------------------------------------------------------------------------------------------------------------------------------

Tài liệu đính kèm:
giao_an_mon_tieng_anh_lop_8_test_forty_five_minute_test_test.doc