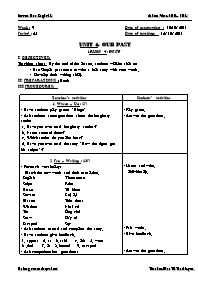 a. Where was the man?
 He was in the field.
 b. What did the buffalo do when the tiger appeared?
 it grazed nearby.
 c. What did the tiger want to know?
 The tiger wanted to know why the strong buffalo was the servant and the small man was the master.
 d. What did the man do before going home? Why?
 He tied the tiger to the tree with a rope because he didn't want it to eat the buffalo.
 e. What did he do when he returned?
 When he returned, he Listen to the teacher. the straw to burn the tiger.
Bạn đang xem tài liệu "Giáo án môn Tiếng Anh Lớp 8 – Unit 4: Our past – Lesson 4: Write", để tải tài liệu gốc về máy bạn click vào nút DOWNLOAD ở trên
Week: 9	 Date of preparation: 10/10/ 2011
Period: 25	 Date of teaching: 12/ 10/ 2011
UNIT 4: OUR PAST
LESSON 4: write
I. OBJECTIVES:
Teaching aims: By the end of the lesson, students will be able to:
	- Use Simple past tense to write a folk story with cues words.
	- Develop their writing skill.
II. PREPARATIONS: Book
III. PROCEDURES:
Teacher's activities
Students' activities
1. Warm – Up: (5')
- Have students play game: "Bingo"
- Ask students some questions about the imaginary stories
 a. Have you ever read imaginary stories?
 b. Name some of them?
 c. Which stories do you like best?
 d. Have you ever read the story "How the tigers got his stripes"?
2. Pre – Writing: (10')
- Pre-teach vocabulary: 
 Match the new words and their translation.
English
Vietnamese 
Stripe
Graze
Servant
Master
Wisdom
Tie
Straw
Escaped
Rôm
Trí khoân
Coät laïi
Troán thoaùt
Nhai coû
OÂng chuû
Ñaày tôù
Soïc
- Ask students to read and complete the story.
- Have students give feedback. 
 1. appear 2. as 3. said 4. left 5. went
 6 .tied 7. lit 8. burned 9. escaped
- Ask comprehension questions: 
 a. Where was the man?
Ê He was in the field.
 b. What did the buffalo do when the tiger appeared?
Ê it grazed nearby.
 c. What did the tiger want to know?
Ê The tiger wanted to know why the strong buffalo was the servant and the small man was the master.
 d. What did the man do before going home? Why?
Ê He tied the tiger to the tree with a rope because he didn't want it to eat the buffalo.
 e. What did he do when he returned?
Ê When he returned, he Listen to the teacher. the straw to burn the tiger.
3. While – Writing: (15')
- Have students do the exercise 2.
- Guide students how to do.
- Ask students to change 
 The man ª I , He ª My
- Have students give feedback. 
- Correct mistakes if necessary. 
 * Suggested answer
 One day, as I was in a field and my buffalo grazed nearby, a tiger came. It asked why the strong buffalo was my servant and I was its master. I told the tiger that I had something called wisdom. The tiger wanted to see it but I said that I left the wisdom at home that day. Then I tied the tiger to a tree with a rope because I didn't want it to eat my buffalo. I went to get some straw and I burned the tiger. The tiger escaped, but today it still has black stripes from the burns.
4. Post – Writing: (13')
- Call some students to retell the story.
5. Homework: (2')
- Retell the story.
- Prepare next lesson: Language focus/ p.44, 45.
- Play game.
- Answer the questions. 
- Listen and write. 
 Individually. 
- Pair works. 
- Give feedback. 
- Answer the questions. 
- Group works. 
- Listen.
- Group works. 
- Give feedback on the posters. 
- Read the answer.
- Retell the story.
Take note.
IV. COMMENTS:
---------------------------------------------------------------------------------------------------------------------------------------------------------------------------------------------------------------------------------------- 
_________________________________________b"&"a___________________________

Tài liệu đính kèm:
giao_an_mon_tieng_anh_lop_8_unit_4_our_past_lesson_4_write.doc