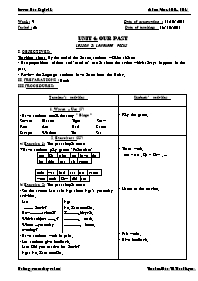 b/ Exercise 2: The past simple tense
– Set the scene: Lan asks Nga about Nga's yesterday activities.
Lan Nga
 lunch?
How school?
Which subject .?
Where yesterday evening? No. I ate noodles.
I .bicycle.
 . math.
 . home.
– Have students work in pairs.
– Let students give feedback.
 Lan: Did you eat rice for lunch?
 Nga: No. I ate noodles.
Bạn đang xem tài liệu "Giáo án môn Tiếng Anh Lớp 8 – Unit 4: Our past – Lesson 5: Language focus", để tải tài liệu gốc về máy bạn click vào nút DOWNLOAD ở trên
Week: 9	 Date of preparation: 11/10/ 2011
Period: 26	 Date of teaching: 13/ 10/ 2011
UNIT 4: OUR PAST
LESSON 5: LANGUAGE FOCUS
I. OBJECTIVES:
Teaching aims: By the end of the lesson, students will be able to:
- Use prepositions of time and "used to" to talk about the action which always happens in the past.
- Review the language students have learnt from the Unit 4.
II. PREPARATIONS: Book
III. PROCEDURES:
Teacher's activities
Students' activities
1. Warm – Up: (5')
- Have students retell the story "Bingo"
Servant Master Tiger Straw
Run Ate Had Came
Escape Wisdom Tie Sat
2. Exercises: (35')
a/ Exercise 1: The past simple tense
* Have students play game: "Pelmanism"
run
fly
take
go
have
do
be
ride
eat
sit
come
rode
was
had
sat
ran
came
went
took
flew
did
ate
b/ Exercise 2: The past simple tense
- Set the scene: Lan asks Nga about Nga's yesterday activities.
Lan 
Nga 
  lunch?
Howschool?
Which subject ..?
Where  yesterday evening?
No. I ate noodles.
I ..bicycle.
.. math.
. home.
- Have students work in pairs.
- Let students give feedback. 
 Lan: Did you eat rice for lunch?
 Nga: No. I ate noodles.
 Lan: How did you go to school?
 Nga: I went to school by bicycle.
 Lan: Which subject did you have yesterday?
 Nga: Where were you yesterday evening?
 Lan: I was at home.
- Ask students to complete the dialogues in the book.
c/ Exercise 3: Prepositions
Complete the sentences. Using the prepositions in the table.
* Matching
In 
On
At
Between
After 
Before
January
3 pm
Wednesday
November 1977
July 2nd
Monday, July 2nd
7 am and 8 am.
- Ask students to do the exercise. 
-Have students give feedback. 
 a. on , b. in , c. between , d. after , e. before. 
d/ Exercise 4: "USED TO"
Complete the dialogue. Use "USED TO" and the verbs in the box.
- Ask questions: 
 1. Who are in the picture?
 2. What are they doing?
 3. Talk about each picture.
- Ask students to do the exercise in pairs.
- Let students give feedback. 
 (1) used to have
 (2) used to be 
 (3) used to live
3. Consolidation: (3')
- Ask students to review the structures they have learnt.
4. Homework: (2')
- Redo the exercises
- Prepare next lesson: Unit 5 - Getting Stared, Listen and Read/ p.46, 47.
- Play the game.
- Team work.
 run – ran , fly – flew , 
- Listen to the teacher. 
- Pair works. 
- Give feedback.
- Pair works. 
- Pair works. 
- Pair works. 
- Give feedback.
- Answer the questions. 
- Pair works. 
- Give feedback. 
- Review.
Take note.
IV. COMMENTS:
----------------------------------------------------------------------------------------------------------------------------------------------------------------------------------------------------------------------------------

Tài liệu đính kèm:
giao_an_mon_tieng_anh_lop_8_unit_4_our_past_lesson_5_languag.doc