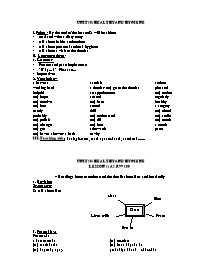 Ordering
a. Your Dad and I hope you're fine.
b. I hope You're taking care of yourself
c. I received a letter from your aunt last week.
d. I miss you a lot.
e. Don't forget to write.
f. Your Granddad talks about you a lot
3. While reading:
– Ss read A1 P. 99 and correct their predictions
Key: 1.a 2.f 3.c 4.b 5.d 6.e
– Answer given:
a. Because it is almost harvest time.
b. Hoa's grandfather helps them on the farm.
c. They'll go after the harvest
d. She get up early and does morning exercises every day
e. Hoa's mother wants her to take care of herself, to wash and iron her clothes, not to eat too much candy and stay up late
Bạn đang xem tài liệu "Giáo án Tiếng Anh Lớp 7 – Unit 10: Healthy and hygiene", để tải tài liệu gốc về máy bạn click vào nút DOWNLOAD ở trên
Unit 10: Healthy and hygiene
I. Points: By the end of the lesson Ss will be able to 
read and write a diary entry
talk about habits and routines
talk about personal and oral hygiene
talk about a visit to the dentist
II. Language focus:
1. Grammar:
Present and past simple tense
"Why... ?" Because... 
- Imperatives
2. Vocabulary:
a harvest
working hard
helpful
(to) hope
(to) receive
(to) iron
candy
probably
(to) polish
(to) change
(to) get
(to) have a shower/ a bath
sandals
a dentist/ (to) go to the dentist
an appointment
scared
(to) hate
sound
drill
(to) understand
(to) fill
(to) hurt
afterwards
cavity
serious
pleased
(to) notice
regularly
healthy
a surgery
(to) check
(to) smile
(to) comb
a comb
pants
III. Teaching aids : book, pictures, word square-board, overhead.......
Unit 10: Healthy and hygiene
lesson 1: A1 P.99-100
* Reading a letter to understand the details about Hoa and her family
1. Revision:
Brainstorm
Hoa
Lives with
class
like
live in
from
Ss talk about Hoa
2. Pre reading:
Pre teach:
a harvest: mïa
(to) work hard: 
(to) hope: hy väng
helpful: gióp Ých
(to) receive
(to) iron: ñi quÇn ¸o
probably: hÇu nh­ ch¾c ch¾n
Ordering
a. Your Dad and I hope you're fine.
b. I hope You're taking care of yourself
c. I received a letter from your aunt last week.
d. I miss you a lot.
e. Don't forget to write.
f. Your Granddad talks about you a lot
3. While reading:
Ss read A1 P. 99 and correct their predictions
Key: 1.a 2.f 3.c 4.b 5.d 6.e
- Answer given:
Because it is almost harvest time.
Hoa's grandfather helps them on the farm.
They'll go after the harvest
She get up early and does morning exercises every day
Hoa's mother wants her to take care of herself, to wash and iron her clothes, not to eat too much candy and stay up late
Key: a,- f, P.100
4. Post reading:
Qs – As
Ss ask and answer about Hoa's Mom letter, using the As- given and a,- f, P.100
5. Homework: A1 P.61
Unit 10: Healthy and hygiene
lesson 2: A2-3 P.100-101
* Listening to a text about routine to revise past simple tense
1. Revision:
Wordsquare
Ss find the past tense of 14 irregular verbs
D
Z
S
E
N
T
E
X
 ç went
I
K
A
J
C
B
D
G
 è bought, were, sent
D
O
W
C
K
A
A
A
 é took, make, was, did
B
O
U
G
H
T
M
V
 ê ate, saw, gave, did
N
T
N
E
W
E
R
E
 í cut î came ì had
2. Pre listening:
- Pre teach:
(to) polish: ®¸nh bãng
(to) change
(to) comb – a come : ch¶i – c¸i l­îc
(to) drink- drank 
(to) get – got 
pants: quÇn lãt dµi, quÇn dµi (Mü)
sandals: x¨ng ®an
- Ordering: A2 P.100
Ss predict the order of Hoa's activities
3. While listening:
Ss listen and check their predictions
Key: 1.a 2.c 3.e 4.f 5.d 6.g 7.h 8.b
Tape transcript
 Yesterday Hoa got up and took a shower. She put on clean clothes. She polished her shoes and put them on. She had her breakfast and then she brushed her teeth. She put a sandwich in her lunch box and a bottle of water in her bag. She went to school.
At recess, she ate her sandwich. Then she drank some water and talk with her friends.
At home, she changed into red pants and a shirt, and put on her sandals.
After dinner, she washed and iron her clothes. Then she did her homework.
She brush her teeth and had a bath. Then she went to bed at 11 o'clock.
Picture story:
Ss tell what Hoa did yesterday, using the pictures
E.g. Yesterday Hoa got up. She took a shower and put on her clothes.
4. Post listening:
A3 P. 101
Transformation writing: Ss write about what they did yesterday based on Hoa's activities and Nam's diary
5. Homework: do 2 P. 62 (WB)
Unit 10: Healthy and hygiene
lesson 3: A4 P.102
* Writing a letter to reply and talk about routine and hygiene.
1. Presentation:
Recall
Ss talk about Hoa's Mom letter
Did Hoa get a letter from her mom?
Will her mom visit her after the harvest?
Can Hoa take care of herself?
Does she get up early every morning?
Does she go to bed late?
Will she write to her mom soon?
2. While writing:
Gap – fill: Ss complete the letter A4 P. 102
Key: was, having, show, take, get, go, wash, iron, eating, told, see, go
Ss work in groups of 4, write the completed letter on posters
3. Post writing:
Exhibition: Ss put their posters on the board/ walls, comparing their work
Transformation writing: Ss write a reply letter to their pen pal, telling what they do every day. 
4. Homework: Ss write a reply letter to their pen pal, telling what they do every day, do A3-4 P 62-63 (WB)
Unit 10: Healthy and hygiene
lesson 4: B1 P.103
* Reading a dialogue about a visit to the dentist
1. Revision:
Hangman
matter, worry, tooth, feel
2. Presentation:
Pre teach
a dentist: nha sÜ
(to) go to the dentist: ®i kh¸m r¨ng
an appointment: cuéc hÑn
scared: sî h·i
(to) fill: ®æ ®Çy, lµm ®Çy
(to) hate: ghÐt
(to) hurt – hurt: lµm ®au
(to) feel – felt: c¶m thÊy
(to) understand – understood: hiÓu 
True/ false prediction:
Minh has a toothache.
Hoa never goes to the dentist.
Minh likes to go to the dentist.
The dentist is kind.
Hoa's tooth still hurts her.
Minh is not scared after talking with hoa.
3. While reading:
Ss read B1 P. 103 and correct their predictions
Key: 1.T 2.F 3.F 4.T 5. F 6.T
Matching : get the meaning of the new words
sound
drill
cavity
afterwards
loud
lç s©u r¨ng
tiÕng, ©m thanh
to (©m thanh)
khoan
sau ®ã
Comprehension Qs a,- f, B1 P.103
Key:
Minh has a toothache.
No, he doesn't. The loudness of the drill scares him.
Because she has a toothache (to have a cavity filled).
She filled the cavity in her teeth
e,f. Ss'answer 
4. Post reading:
Find someone who
Find someone who
Name
Example exchange:
S1: Do you have a toothache?
S2: Yes/ No
... has a toothache
... like going to the dentist
... is scared of seeing a dentist
5. Homework: learn the new words by heart, do B1 P.63
Unit 10: Healthy and hygiene
lesson 5: B2-4 P.104-105
1. Pre listening:
B2 P.104
Pre teach:
(to) explain: gi¶ng gi¶i
(to) tell: kÓ
(to) remind: nh¾c nhë
regularly: th­êng xuyªn
sensibly: biÕt ®iÒu
Open prediction
Ss predict the answers of the questions a,- d, B2 P. 104
2. While listening:
Ss listen to a text about Dr Lai and check their predictions
T gives the correct answers
Key: 
Dr Lai is a dentist.
She wears a uniform to work.
Most children feel scared when they come to see Dr Lai.
She explains what will happen. She gives them advice. She tells them how to look after their teeth and she reminds them to clean their teeth regularly and eat sensibly.
Tape transcript
	Dr Lai is a dentist at Quang Trung School. She looks after all Ss' teeth . Dr Lai's office is clean and so is her uniform. She always washes her hand after each children leaves. Many children are scared when they come to see Dr Lai, but she is a kind woman. She explain what will happen so they are not afraid.
	Dr Lai gives the children advice. She tells them how to look after their teeth. She reminds them to clean their teeth regularly and eat sensibly
3. Pre reading:
Pre teach:
a surgery: phßng phÉu thuËt
(to) check: kiÓm tra
(to) smile: mØm c­êi
serious: nghiªm träng
(to) be pleased: vui
(to) notice: nhËn xÐt , chó ý
Pre Qs
How does Dr Lai help Minh? How does Minh feel?
4. While reading:
Ss read the text and answer the pre Qs
Answers given
He has one small cavity.
She fills the cavity in his tooth.
He is very pleased.
She advises to Minh to brush his teeth regularly. 
What's wrong with Minh?
What does Dr Lai do with Minh's tooth?
How does Minh feel?
What does Dr Lai advise Minh to do?
Model sentences
Why does Minh's tooth hurt?
Because he has a cavity
 Practice:
Noughts and crosses 
go/ dentist
toothache
have/ toothache
eat/ lots of sweets
not go/ school
toothache
Example exchange:
S1: Why do you go to the dentist?
S2: Because i have a toothache.
feel/ better
tooth/ stop hurting
nervous?
see/ dentist
happy?
teeth fine
have/ toothache
forget/ brush teeth
not scared?
dentist/ kind
tooth hurt?
cavity
5. Post reading:
Complete the story P. 104
Key: nervous... smiles ... cavity ... brush ... pleased
Recall
Ss retell the story 
6. Homework: learn the NWs and the story P.104 by heart , do B2-4 P.64-65 

Tài liệu đính kèm:
giao_an_tieng_anh_lop_7_unit_10_healthy_and_hygiene.doc