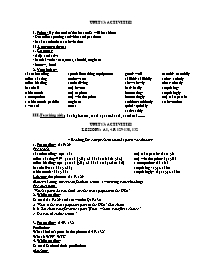 UNIT 13: ACTIVITIES
LESSON 1: A1, 4 P. 129-130, 132
* Reading for comprehension and sports vocabulary
1. Pre reading: A1 P129
Pre teach:
skate boarding: trượt ván
roller skating: trượt patanh ( giày có bánh xe ở bốn góc)
roller blading: trượt patanh (giày có bánh xe dọc theo đế)
baseball: môn bóng chày
table tennis: bóng bàn (to) take part in: tham gia
(to) win the prize: đạt giải
a competitor: thí sinh
surprising : ngạc nhiên
surprisingly: thật ngạc nhiên
Labeling the pictures A1 P. 129
(Roller-skating, American football, tennis, swimming, rollerblading)
Pre questions:
 Which sports do you think are the most popular in the USA?
2. While reading:
Ss read A1 P.129 and answer the Qs P.130
a, What is the most popular sport in the USA? (Baseball)
b, Is Baseball your favorite sport? If not, what is your first choice?
c, Do you like table tennis?
Bạn đang xem tài liệu "Giáo án Tiếng Anh Lớp 7 – Unit 13: Activities", để tải tài liệu gốc về máy bạn click vào nút DOWNLOAD ở trên
Unit 13: Activities
I. Points: By the end of the lesson Ss will be able to
- Describe sporting activities and pastimes
- Make and refuse an invitation
II. Language focus:
1. Grammar:
- Adjs and advs
- Modal verbs: can, must, should, ought to
- borrow, lend
2. Vocabulary:
skate boarding
roller skating
roller blading
baseball
table tennis
a competitor
a table tennis paddle
a vessel
special breathing equipment
underwater
scuba diving
(to) invent
(to) explore
(to) win the prize
ought to
must
good/ well
skillful/ skillfully
slow/ slowly
bad/ badly
interesting/ interestingly
sudden/ suddenly
quick/ quickly
safe/ safely
careful/ carefully
strict/ strictly
clear/ clearly
surprising/ surprisingly
(to) take part in
an invention
III. Teaching aids : book, pictures, word square-board, overhead.......
Unit 13: Activities
Lesson 1: A1, 4 P. 129-130, 132
* Reading for comprehension and sports vocabulary
1. Pre reading: A1 P129
Pre teach:
skate boarding: trượt ván
roller skating: trượt patanh ( giày có bánh xe ở bốn góc)
roller blading: trượt patanh (giày có bánh xe dọc theo đế)
baseball: môn bóng chày
table tennis: bóng bàn 
(to) take part in: tham gia 
(to) win the prize: đạt giải
a competitor: thí sinh 
surprising : ngạc nhiên
surprisingly: thật ngạc nhiên
Labeling the pictures A1 P. 129
(Roller-skating, American football, tennis, swimming, rollerblading)
Pre questions:
 Which sports do you think are the most popular in the USA? 
2. While reading:
Ss read A1 P.129 and answer the Qs P.130
a, What is the most popular sport in the USA? (Baseball)
b, Is Baseball your favorite sport? If not, what is your first choice?
c, Do you like table tennis?
3. Pre reading: A4 P. 132
Prediction:
What kind of sports in the picture A4 P. 132?
What is WFF? WTS?
4. While reading:
Ss read & check their predictions
Matching
organized
increases
volunteer
in stead of
tổ chức 
tình nguyện
thay vì
gia tăng
Comprehension Qs A4 P.132
Key:
a, He takes part in Walking For Fun club/ walking.
b, The writer's school team won the prize; They were so happy and wanted to keep the activity.
c, One activity is a 5 km walk/ walking 5 km to the beach on Sunday morning; and the other is walk-to-school day.
d, It's 5 km from school to the beach.
e, Wednesday is the WTS day.
f, Members living near school often take part in the WTS day.
5. Post reading
Find someone who
Name
Like best
soccer
badminton
walking
table tennis
swimming
6. Homework: answer the Qs A4 P.132 , learn the new words by heart
Unit 13: Activities
Lesson 2: A3,5 P. 131-133
* Practice using adjs and advs to talk about sports
1. Presentation:
Pre teach:
good/ well: tốt
skillful/ skillfully: điêu luyện/ có kỹ thuật
slow/ slowly: chậm
bad/ badly: tồi, xấu 
interesting/ interestingly: thú vị, hay
sudden/ suddenly: bất thình lình
quick/ quickly: nhanh
safe/ safely: an toàn 
careful/ carefully: cẩn thận
careless/ carelessly: cẩu thả
strict/ strictly: nghiêm khắc
clear/ clearly: rõ ràng 
Rub out and remember
Presentation text A3P.131
Model sentences
He's a skillful volleyball player
He plays skillfully
2. Practice:
Word cue drill A3 P. 131
good/ well/ soccer player
quick/ quickly/ runner
slow/ slowly/ swimmer
safe/ safely/ cyclist
bad/ badly/ tennis player
Example exchanges
S1: He's a good soccer player.
S2: Yes, he plays well
3. Further practice:
Language focus 5 – 1) P.162
Ss check the correct box and then complete the sentences
4. Homework: Ss change the adjs in brackets to advs then copy the whole passage into their NB, do A1-2 P. 82, A5 p.132-133
Unit 13: Activities
Lesson 3: B1,4 P. 134,137
* Listening to a text about an invitation and practice in modal verbs "can, should, ought to, must"
1. Revision:
Wordsquare
T
A
E
H
T
E
E
ò can, should, eat
 à after, before, meals, adult, swim, thin
 table tennis
 brush teeth
A
F
T
E
R
J
T
B
E
F
O
R
E
H
L
D
L
U
O
H
S
E
M
E
A
L
S
U
T
H
I
N
A
C
R
E
A
D
U
L
T
B
N
N
I
S
W
I
M
2. Presentation:
Pre teach
ought to
must
a table tennis paddle: vợt bóng bàn
Presentation dialogue B1 P. 134
Model sentences
What should Nam do before he plays table tennis?
He ought to do his homework.
He must do his homework first.
3. Practice:
Word cue drill
Nam/ before/ table tennis/ do homework
we/ after/ meals/ brush teeth
children/ when/ swimming/ swim with an adult
Lan/ when/ very thin/ eat more 
Example exchanges
(as model sentences)
4. Further practice:
B 4 P. 137
Ss complete the passage with the modal verbs in the box
Key: 
1. can 2. must 3. must not 4. should 5. can 
6. ought to/ should 7. can/ should 8. should/ must 
5. Homework: B4 P. 137 (Ss'B), B2-3 P. 84-85
Unit 13: Activities
Lesson 4: B2 P. 135
* Further practice in making, accepting and refusing an invitation , using modal verbs
1. Revision:
Mime game
T mimes, Ss give advice
Language focus 5 – 2c P.163: cold, hot, tired, sick
E.g. T: cold
	Ss: You should/ ought to stay inside
	shouldn't go out
2. Presentation:
Presentation dialogue B2 P. 135
3. Practice:
Ss practice making other Ds using the cues in the box P. 135
4. Production:
Ss make their own Ds, using the 3- bottom Pics P 135 
Example exchanges
S1: Come and play ..?
S2: I'm sorry .
S1: Why not? ....
S2: I must .
S1: Can you .?
S2: Yes, 
S1: 
5. Homework: LF 5 – 2 a,-b, P.162-163, 3 P.85 (WB)
Unit 13: Activities
Lesson 5: B3 P. 136-137
* Reading comprehension and "couldn't" for past ability
1. Pre reading:
Pre teach
underwater: dưới mặt nước, chỗ sâu, nước ngầm
scuba diving / 'sku:bE, dồivin/: lặn có sử dụng bình dưỡng khí 
a vessel / 'vesEl/: tàu, thuyền 
(to) explore: thăm dò, thám hiểm 
 (to) invent: phát minh, sáng chế 
an invention
special breathing equipment: dụng cụ thở đặc biệt
 T/ F prediction B3 P.137
2. While reading:
Ss read B 3 P. 136 and correct their predictions
Key:
F. Most of the world's surface is water.
T
F. Now people can swim freely with the help of special breathing equipment.
F. Jacques Cousteau invented a deep-sea diving vessel.
T
Answer given
As
Qs
2 minutes
a long time
1997
the early 1940s
underwater life
with special TV cameras
How long could a pearl diver stay underwater?
Now, how long can a diver stay under water?
When did Jacques Cousteau die?
When did he invent the deep-sea diving vessel?
What could he study?
How can we explore the oceans now?
3. Post reading:
Grids
Ss talk about inventions
invention
verbs
sentences
special breathing equipment
explore the oceans
learn about the sea
Before special breathing equipment, we could explore the oceans. We could learn about the sea.
electricity
read all night
watch TV
use computers
listen to music
Before electricity, we couldn't 
the motor bike
travel far
get home quickly
visit places
Before the motor bike, we couldn't 
4. Homework: write sentences using the grids (PR), B4 P. 85

Tài liệu đính kèm:
giao_an_tieng_anh_lop_7_unit_13_activities.doc