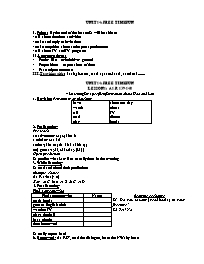 T/ F prediction:
a. Pop music, contests, imports are popular TV programs.
b. Teenagers like to listen to classical music.
c. There are contest of knowledge.
d. The contestants are students, workers, TV viewers.
e. Imports are very expensive. T
2. While reading:
Ss read the text and check their predictions
Ss read and answer the Qs B3 P. 146 a) -f)
Key:
a. They like to hear the latest pop music and see the show of their favorite artists.
b. In contest programs, the contestants are students, workers or family members.
c. They usually include police and hospital series.
d. (Ss' answer)
Bạn đang xem tài liệu "Giáo án Tiếng Anh Lớp 7 – Unit 14: Free time fun", để tải tài liệu gốc về máy bạn click vào nút DOWNLOAD ở trên
Unit 14: Free time fun
I. Points: By the end of the lesson Ss will be able to 
- talk about freetime activities
- make and reply to invitations
- make enquiries about and express preferences
- talk about TV and TV programs
II. Language focus:
Prefer/ like + to-infinitive/ gurund
Prepositions + expressions of time
Pastandpresent tense
III. Teaching aids : book, pictures, word square-board, overhead.......
Unit 14: Free time fun
lesson 1: A1 P. 139-140
* Listening for specific information about Hoa and Lan
1. Revision: Pemalnism or Matching
have
watch
talk
read
play
about our day
chess
TV
dinner
books
2. Pre listening:
Pre teach
an adventure: cuéc phiªu l­u 
a cricket: con dÕ 
series: phim truyÒn h×nh nhiÒu tËp 
(to) guess: nghÜ, ch¾c r»ng (Mü) 
Open prediction
Ss predict what Lan/ Hoa usually does in the evening
3. While listening:
Ss read and check their predictions
Multiple choice
A1 P. 140 a)- e)
Key: a) C, b) A, c) B, d) C, e) D
5. Post listening:
Find someone who
Find someone who
Name
Example exchange
S1: Do you usually [read books] in your free time?
S2: Yes/ No
reads books
goes to English club
watches TV
plays football
has a picnic
does homework
Ss orally report back
6. Homework: A1 P.87, read the dialogue, learn the NWs by heart
Unit 14: Free time fun
Lesson 2: A2 P. 141
* "What would you like to watch?" question and answer "I'd like to watch?" to talk about your favorite TV programs.
adventure
news
movie
theater
program
concert
1. Revision:
Slap the board
2. Presentation:
Pre teach
a cowboy movie
detective
Presentation Dialogue A2 P. 141
Ss work in pairs
T presents model sentences
Model sentences
What would you like to watch?
I'd like to watch a cowboy movie.
3. Practice:
Word – cue drill
a, a football match
b, "Beautiful summer" play
c, "Cowboy" film
d, "Easy life" play
e, detective movies
Example exchange:
 (as model sentences)
4. Further practice:
Mapped Dialogue
J Hoa
J Lan
Would  theater?
easy life  Youth Theater
Sorry  English club. 
How  Thursday?
Fine. Let's 
 good. What would you?
Ok.  Tuesday night.
OK
 Example exchange:
S1: Would you like to go to the theater?
S2: That sound's good. What would you like to watch?
S1: There's "An Easy Life" on at the Youth Theater.
S2: OK. Can you make it on Tuesday night?
S1: Sorry. I have to go to the English club. How about Thursday?
S2: That's OK.
S1: Fine. Let's go on Thursday.
5. Homework: A2-3 P.88-89
Unit 14: Free time fun
Lesson 3: A3 P. 142
 * Reading a text to understand the details about television in Vietnam.
1. Revision: Shark attack (television, living room, watch)
2. Pre reading
Pre teach
an owner: ng­êi lµm chñ 
a program: ch­¬ng tr×nh
(to) gather: tô t¹p, tËp hîp 
(to) change: thay ®æi
T/F statements prediction
Thirty years ago in Vietnam, a lot of people had TV sets
These TV owners were very popular.
The neighbors gathered to watch color programs in the evening.
Now, they don't spend much time together.
A few people have TV sets today.
F
T
F
T
F
3. While reading:
Ss read the text and check their predictions
Ss write Qs for these answers:
As
Key
No. Very few people.
The black and white programs.
They might sleep a little.
No. No one.
In their own living room.
Did a lot of people had TV sets 30 years ago?
What did they watch?
What might the older people do?
Did anyone go home before the TV program finished?
Where do people watch TV now? 
4. Post reading: A3 P. 142
Key:
people
not
9. have
3.TV
4. popular 
10. life
5. evening
6. gather
11. know
7. they
8. today
5. Homework: A4 P.89
Unit 14: Free time fun
Lesson 4: B1-2 P. 144-45
* "What kinds of program do you like?" Qs and As "I'd like program about " to talk about your favorite program.
1. Revision:
Jumbled words
Program, teenager, music, movie, theater, radio
2. Presentation:
Pre teach
a kind
a cartoon: phim ho¹t h×nh
a fistful: mét n¾m 
(to) prefer: thÝch h¬n 
a sport show: ch­¬ng tr×nh thÓ thao 
weather forecast : ch­¬ng tr×nh dù b¸o thêi tiÕt
Presentation dialogue (Reading) B1 P.114
Model sentences
What kinds of programs do you like?
I like program about teenagers
Ss answer the Qs B1 P.114 a)- e)
Key:
No, because there aren't any good programs for teenagers.
He likes to watch sport shows, cartoon and movies.
She likes to watch programs about teenagers in other countries.
Because they don't play the kind of music she likes.
She's going to listen to the radio and maybe read a book
3. Practice:
Word cue drill
weather forecast
the world today
children
early news
cartoon
teenagers
Example exchange
S1: What kinds of programs do you like?
S2: I like program about teenagers
 Listen to B2 P. 145 and write the times of the programs
Key:
a, 5.00 b, 6.00 c, 6.10 d, 6.15 e, 7.00 
Tape transcript
Ba: 
Lan: 
Ba: 
Lan:
Ba: 
Lan:
Ba: 
What is on TV at 6 tonight, Lan?
Let me see. It's "early news". You want to watch it, don't you?
Come on, Lan! I want to watch the movie "A fistful of dollars". When does it start?
It starts at 7 o'clock, after the program "The world today" at a quarter past 6.
And what about the weather forecast? What time is it on?
It's on at ten past 6. But we should watch our children's program. It starts at 5.
OK. That sounds great.
4. Homework: B1-2 P. 90
Unit 14: Free time fun
Lesson 5: B3-4 P. 145-46
* Reading a text to understand the details about popular TV programs
1. Pre reading:
Pre teach
an audience: kh¸n gi¶
a band: ban nh¹c, mét nhãm ng­êi cïng lµm mét viÖc g× ®ã 
a contest: cuéc thi 
a contestant: ®Êu thñ, thÝ sinh
an import: s¶n phÈm nhËp khÈu
satellite: vÖ tinh 
T/ F prediction:
Pop music, contests, imports are popular TV programs.
Teenagers like to listen to classical music.
There are contest of knowledge.
The contestants are students, workers, TV viewers.
Imports are very expensive.
T
F
T
T
F
2. While reading:
Ss read the text and check their predictions
Ss read and answer the Qs B3 P. 146 a) -f)
Key:
They like to hear the latest pop music and see the show of their favorite artists.
In contest programs, the contestants are students, workers or family members.
They usually include police and hospital series.
 (Ss' answer)
3. Post reading:
 Ss take the survey
Name
pop music
contests
imports
others
Example exchange:
S1: Do you want to [hear pop music/ see contests]?
S2: Yes, I do/ No, I don't
Or
S1: What TV programs do you want to see/ hear?
S2: I want to hear/ see 
4. Homework: B4 P.146 (Ss'B), B4-5 P. 91-93 (WB)

Tài liệu đính kèm:
giao_an_tieng_anh_lop_7_unit_14_free_time_fun.doc