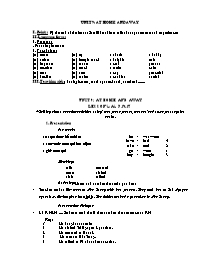 3. While reading
– Students read and check their predictions
Key: a. T b. T c. F 4. T 5. F
– Students read and answer the questions in A2 P. 88
Key: a. Her parents went to the aquarium with her.
b. They saw sharks, dolphins, turtles, and many different types of fish.
c. They bought a cap and a poster.
d. Yes, she did. Liz wore the cap all day.
e. Yes, they ate fish and crab.
f. Because she remembered the beautiful fish in the aquarium.
Bạn đang xem tài liệu "Giáo án Tiếng Anh Lớp 7 – Unit 9: At home and away", để tải tài liệu gốc về máy bạn click vào nút DOWNLOAD ở trên
Unit 9: At home and away
I. Points: By the end of the lesson Ss will be able to talk about past events and experiences
II. Language focus:
1. Grammar
- Past simple tense
2. Vocabulary:
(to) return
(to) arrive
(to) improve
(to) receive
(to) rent
(to) decide
(to) try
(to) keep in touch
(to) move
(to) teach
(to) sew
(to) make
a shark
a dolphin
a crab
a turtle
a cap
a cushion
a hobby
exit
peanut
calm
peaceful
useful
III. Teaching aids : book, pictures, word square-board, overhead.......
Unit 9: At home and away
Lesson 1: A1 P.86-87
* Talking about vacation activities using "was, were, wasn't, weren't" and some past regular verbs.
 1. Presentation
 Pre teach:
an aquarium: bể nuôi cá
a souvenir: món quà lưu niệm
a gift: món quà
be
 have
take
go
buy
was/ were
had 4
took 2
went 1
bought 3
 Matching:
talk
return
visit
returned
visited
talked
 Ordering: Listen and number the verbs you hear
Teacher reads: 'Liz went to Nha Trang with her parents. They took her to Tri Nguyen aquarium. Liz bought a lot of gifts. The Robinsons had a great time in Nha Trang.'
 Presentation dialogue
A1 P. 86-87 – Students read the D then number the sentences on P.87
Key:
3
2
4
1
5
Liz bought souvenirs
Liz visited Tri Nguyen Aquarium.
Liz returned to Hanoi.
 Liz went to Nha Trang.
Liz talked to Ba about her vacation.
2. Practice
Example exchange:
S1: How was the vacation?
S2: It was wonderful.
Word cue drill
Vacation/ wonderful
food/ delicious
things/ expensive
people/ friendly
Nha Trang/ beautiful
3. Production 
Guessing game
Last vacation I was in......
S1: Were you in ...(name of place)?
S2: Yes, I was/ No, I wasn't
4. Homework 
1 P.53 (WB) and learn by heart
Unit 9: At home and away
Lesson 2: A2 P.87-88
* Reading for details about the Robinsons' Vacation and practice Wh-questions in the past simple tense.
1. Revision – Pelmanism 
go, have, take, talk, buy, went, bought, took, talked, had
2. Pre reading
Pre teach:
a shark: cá mập
a crab: con cua
a dolphin: cá heo
a cap: mũ lưỡi trai
a turtle: con rùa biển
exit: lối ra
Matching:
eat
see
wear
think
wore
thought
ate
saw
T/F prediction
a. The Robinsons went to Tri Nguyen Aquarium
b. They saw many types of fish.
c. Liz bought a little turtle.
d. They had lunch at a food stall.
e. Liz ate fish and crab.
3. While reading
Students read and check their predictions
Key: a. T b. T c. F 4. T 5. F
Students read and answer the questions in A2 P. 88
Key: a. Her parents went to the aquarium with her.
b. They saw sharks, dolphins, turtles, and many different types of fish.
c. They bought a cap and a poster.
d. Yes, she did. Liz wore the cap all day.
e. Yes, they ate fish and crab.
Because she remembered the beautiful fish in the aquarium.
4. Post listening
 Re-call
Students look at the pictures: a,-e, P.88 to tell the story of the Robinsons' trip to Tri Nguyen Aquarium
 Write it up
Key: a. The Robinson family went to Tri Nguyen Aquarium
b. They saw sharks, dolphins, turtles, and many colorful fish.
c. Mr. Robinson bought Liz a cap with a picture of dolphin on it.
d. There was a souvenir shop near the exit of the aquarium. 
e. Mrs. Robinson bought a poster.
f. After their visit to the aquarium, the Robinsons went to a food stall. Mr. and Mrs. Robinson ate fish and crab and Liz ate noodles
5. Homework
write it up, do A2 P. 53
Unit 9: At home and away
Lesson 3: A3&A4 P.89
* Listen for details and practice past simple tense and reading Ba's diary to understand the details and talk about past activities.
1. Revision – Bingo 
Teacher reads: went, bought, had, took, talked, returned, visited, wore, ate, saw, and thought
2. Pre listening
Pre teach
peanut: cây lạc
drive - drove 
keep in touch: liên lạc
teach – taught
calm and peaceful: lặng gió và yên tĩnh
rent – rented
move – moved 
improve – improved
Open prediction
Students read the student's books in A3 P.89 and guess which students they are going to hear
Students
a
b
c
d
e
f
g
h
i
j
Guess
Listen
ü
ü
ü
ü
ü
3. While listening
Students listen and check their predictions
Tape transcript
	The Robinsons had a great holiday in Nha Trang. Unfortunately, the holiday soon ended and it was time to return home. They took a bus back to Hanoi. Liz was excited as the bus drove through the countryside. She saw rice paddies for the first time. Everything looked calm and peaceful. At four o'clock, the bus stopped at a small roadside restaurant for 10 minutes. Mr. Robinson was asleep, so Mrs. Robinson bought some peanuts and an ice cream for Liz. The bus arrived in Hanoi at about 7 p.m. 
4. Pre listening
True or False prediction
The Robinsons are American.
Mr. Robinson works at a hospital in Hanoi.
They rented a house next door to Ba's.
They moved to a new apartment last week.
Liz and Ba are the same age
Students work in pairs or in groups.
5. While reading
Students read and check their predictions: Key: 1.T 2.F 3. F 4.T 5.T
Students read the Students A4 P.90 and make them true:
Liz lived next door to Ba.
Liz learned Vietnamese in Vietnam.
Ba collects stamps.
Liz's aunt lives in New York.
The Robinsons moved to other side of Hanoi.
The Robinsons moved. Now Ba is sad.
Ba will see Liz next week.
6. Homework
A3 P. 54 (WB)
Unit 9: At home and away
lesson 4: B1-2 P. 92-93
* Practice the past simple tense in negative and interrogative forms and short answers to talk about past activities.
1. Revision:
Matching or Pelmanism
come, came, receive, received, improve, improved, take, took, wear, wore
2. Presentation:
Pre teach:
a hairdresser: thî uèn tãc
a dressmaker: thî may
material: v¶i
Presentation dialogue B1 P. 92-93: Ss read and fill in the grid
Thing to do
Hoa
Hoa's neighbor
Hoa's aunt
buy the material
x
ü
x
cut her hair
x
x
ü
make the dress
x
ü
x
buy the dress
x
x
x
Model sentences:
S1: Did Hoa buy the dress?
S2: No, she didn't
S1: Did her aunt cut her hair?
S2: yes, she did.
3. Practice:
Ss practice in pairs using the information in the grid
Example exchange:
S1: Did her neighbor make the dress?
S2: Yes, she did.
4. Production:
 Guessing game
Yesterday I went to ..... and I bought (a/ some) .... 
Did you go to .... (name of a place/ a shop)?
Did you buy... (thing)?
5. Homework: B1-2 P. 55-56
Unit 9: At home and away
lesson 5: B3-4 P. 93-94
* Reading for details to understand Hoa's sewing work and further practice in Wh-Qs to talk about past activities
1. Pre reading:
Pre teach:
a hobby
a sewing machine
a cushion: tÊm nÖm gèi
useful: cã Ých
(to) sew
(to) decide – decided
(to) try – tried
(to) make – made 
 Ordering
First, she made a cushion
Next she made a skirt.
Hoa bought some material.
Hoa's neighbor helped her.
She tried it on.
It fitted well.
It was too big
2
3
1
6
4
7
5
2. While listening:
- Ss read and check their order
- Comprehension Qs B3 P. 93
Key:
She learned (how) to use a sewing machine.
She made a cushion for her armchair first.
It was blue and white.
Next, she made a skirt.
It was green with white flowers on it.
It looked very pretty.
She tried it on but it didn't fit.
Hoa's neighbor helped her.
Finally, It fitted very well.
3. Post reading:
Ordering:
Ss listen and number the verbs they hear
Listening text:
	 Hoa watched her neighbor make her dress. She decided to learn how to sew. First she bought some material. Then she made a cushion for her armchair. Next, she cut out the dress. The cushion was fine, but the dress wasn't. Then her neighbor helped her, so finally it fitted her
1. watched 2. decided 3. bought 4. made 
 5. cut 6. was 7. wasn't 8. helped 9. fitted
- Ss retell how Hoa did the sewing work using the information in the Pre reading.
4. Homework: do B4 P. 94 (Ss' book) , B3-4 P. 56-58
Language focus 3 P.95-98
I. Points: Further practice in past simple tense, prepositions of place, "How much", "How far" to talk about price and distance. Comparatives with more, less and fewer.
II. T-P:
1. Past simple:
Pelmanism 3a P.97
help, remember, take, send, think, sent, helped, remembered, took
Gap fill 3b P.97
2. How much:
Ss practice in pairs using the information in 1b P.95
Example exchange:
S1: How much is the violet dress?
S2: It is 35,000 dong
3. Prepositions of place:
Listen and name each store (with the key) Le Loi Street
T reads: There's a library on Le Loi street. To the left of the library there is a shoe store. To the right of the library there is a bookstore. The hairdresser's is next to the bookstore on the right. There is a clothing store opposite the shoe store. The restaurant is between the clothing store and the mini-mart. 
1
shoe store
library
2
bookstore
3
hairdresser's
4
clothing store
5
restaurant 
6
mini-mart
4. How far:
Ss practice in pairs using the information in 2 b P.96
Example exchange:
S1: How far is it from the shoe store to the mini-mart?
S2: It's 500 meters
5. More, less, and fewer
Complete the following sentences using more, less or fewer
Before there was a lot of meat. Now, there is ............
Before there was half a litter of orange juice. Now, there is ............
Before there were 4 bananas. Now, there are ............
Before there was a lot of milk. Now, there is ............
Before there were 2 tomatoes. Now, there are ............
less
more
fewer
less
more
6. Homework: Do 2a P. 96, 4 P.98

Tài liệu đính kèm:
giao_an_tieng_anh_lop_7_unit_9_at_home_and_away.doc