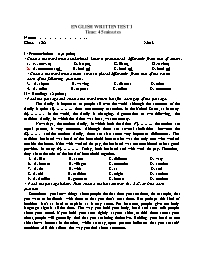 I – Pronunciation: (1,0 point)
* Choose the word whose underlined letter is pronounced differently from that of others.
 1. A. serves B. hopes C. likes D. writes
2. A. concentrated B. looked C. booked D. hooked
* Choose the word whose main stress is placed differently from that of the rest in each of the following questions.
 3. A. airport B. waving C. discuss D. often
 4. A. effort B. express C. office D. comment
II – Reading: ( 2 points)
* Read the passage and choose the word which best fits each gap of the passage.
The family is important to people all over the world although the structure of the family is quite (5) . from one country to another. In the United States, as in many (6) in the world, the family is changing. A generation or two following, the tradition family, in which the father was boss, was customary.
Nowadays, the modern family, in which both the father (7) . the mother are equal partner, is very common. Although there are several similarities between the (8) and the modern family, there are also some very important differences. The tradition husband was head of the household because he was the only one who worked outside the home. If the wife worked for pay, the husband was not considered to be a good provider. In many (9) . Today, both husband and wife work for pay. Therefore, they share the role of the head of household together.
 5. A. like B. same C. different D. vary
 6. A. houses B. villages C. countries D. section
 7. A. for B. with C. at D. and
 8. A. old B. tradition C. origin D. ancient
 9. A. families B. generate C. house D. modern
Bạn đang xem tài liệu "Đề kiểm tra 45 phút số 1 môn Tiếng Anh Lớp 12", để tải tài liệu gốc về máy bạn click vào nút DOWNLOAD ở trên
ENGLISH WRITTEN TEST 1
Time: 45 minutes
Name: . 
Class: 12A	Mark:
I - Pronunciation: (1,0 point)
* Choose the word whose underlined letter is pronounced differently from that of others.
 1.	A. serves 	B. hopes 	C. likes D. writes
A. concentrated 	 B. looked 	 C. booked 	 D. hooked
* Choose the word whose main stress is placed differently from that of the rest in each of the following questions.
 3. A. airport	B. waving 	C. discuss D. often
 4. A. effort	 B. express	 C. office 	 D. comment
II – Reading: ( 2 points) 
* Read the passage and choose the word which best fits each gap of the passage. 
The family is important to people all over the world although the structure of the family is quite (5).. from one country to another. In the United States, as in many (6) in the world, the family is changing. A generation or two following, the tradition family, in which the father was boss, was customary.
Nowadays, the modern family, in which both the father (7).. the mother are equal partner, is very common. Although there are several similarities between the (8) and the modern family, there are also some very important differences. The tradition husband was head of the household because he was the only one who worked outside the home. If the wife worked for pay, the husband was not considered to be a good provider. In many (9). Today, both husband and wife work for pay. Therefore, they share the role of the head of household together.
 5. A. like B. same 	 C. different 	 D. vary
 6. A. houses B. villages 	 C. countries 	 D. section
 7. A. for B. with 	 C. at D. and
 8. A. old B. tradition 	 C. origin D. ancient
 9. A. families B. generate 	 C. house D. modern
* Read the passage below. Then choose the best answer (A, B,C, or D)to each question 
 Sometimes you know things about people the first time you see them, for example, that you want to be friends with them or that you don't trust them. But perhaps this kind of intuition isn't as hard to explain as it may seem. For instance, people give out body language signals all the time. The way you hold your body, head and arms tells people about your mood. If you hold your arms tightly at your sides, or fold them across your chest, people will generally feel that you are being defensive. Holding your head to one side shows interest in the other, while an easy, open posture indicates that you are self-confident .All this affects the way you feel about someone.
 Also, a stranger may remind you of a meeting with someone. This may be because of something as simple as the fact that he or she is physically similar to someone who treated you well or badly. Your feelings about a stranger could be influenced by a smell in the air that brings to mind a place where you were happy as a child. Since even a single word can bring back a memory such as that, you may never realize it is happening. 
10. What does the word "open" in the passage most closely mean?
 A. not shut 	B. unlimited C. relaxed D. enlarged
11. What influences your impression of a person you meet the first time?
 A. intuition 	B. knowledge C. feeling D. familiarity 
12. What one feels about a stranger may be influenced by something that ________ 
 A. strengthen one's past behaviours B. reminds one of one's past treatment 
 C. revives one's past memories D. points to one's childhood 
13. What does the second paragraph discuss ?
 A. Meaning of signals one implies toward a stranger 
 B. Factors that may influence one's feeling about a stranger 
 C. Factors that cause people to act differently 	
 D. How people usually behave to a stranger 
14. Intuition described in the passage can be explained by means of _________
 A. signals 	B. languages 	C. behaviours	D. styles 
 III – Grammar and vocabulary ( 3. points) 
* Choose the best option A, B, C or D to complete the sentence.
15. Some candidates failed the oral examination because they didn't have enough ...
	A. confide B. confident C. confidence 	D. confidential
16. Mr. Green  a color television set already.
 A. buy	 B. buys	 C. has bought	 D. have bought
 Billy, come and give me a hand with cooking.
 A. help 	 B. prepared 	C. be busy 	 D. attempt
18. Do you think doing the household chores is the..of the women only?
 A. task	 B. responsibility C. mission	 D. charge
19. HAI ANH: " Would you like a cup of tea?" - LAN ANH: " "
 A. Yes, I do	 B. Yes, please 	 C. I'm sorry	D. It's my pleasure
20. LAN: " Happy birthday! This is a small present for you." - HOA: " ."
 A. What a pity! B. How beautiful it is! Thanks. C. Have a good time! D. How terrible!
 21. After work, my mother rushes to the market for getting things for dinner. 
 A. tramps	 B. wanders	 C. hikes	 D. hurries
 22.In many parts of our country, many parents still believe in.marriage and they don't let their children decide their marriage by themselves.
 A. contractual B. approval	 C. commercial	 D. proposal
 * Give the opposite in meaning underlined word.
 23. My aunt gave up the ambition of being a painter and even more sacrificed all her life to the family and her children.
 A. delivered B. worked 	 C. devoted D. give up
* Choose the underlined part in each of the following sentences that needs correcting
We were advised not drinking the water in the bottle.
 A	B	 C	 D
 25. Pointing into someone is considered even rude .
 A B C D
IV – Writing (2,5 points) 
* Choose one sentence that has the same meaning as the root one.
26. He said : " I'll come here to take this book."
 A. He said that he would have come there to take that book
 B. He said that he would came there to take that book
 C. He said that he will come there to take that book
 D. He said that he would come there to take that book
27. "How long have you been learning English?" the examiner asked.
	 A. The examiner asked me how long I have been learning English.
	 B. The examiner asked me how long I had learnt English.
	 C. The examiner asked her how long she has been learning English.
	 D. The examiner asked how long I had been learning English.
28. We haven't seen our uncle for three years.
	A. We first met our uncle three years ago.
	B. The last time we met our uncle was three years ago.
	C. We never saw my uncle three years ago.
	D. Three years is a long time for us to see our uncle.
29. This is the first time they've been to England.
 A. They have never been to England before. B. They went to England once.
 C. They haven't been to England so far. 	 D. They've been to England many times.
* Complete the following sentences 
30. It is generally believed that ..
A. "men built the home and women make it house"
B. "men build the house and women make it home"
C. "women make it home and man building the house"
D. "man built the house but woman make it homes"
31. She didn't say a word when she left the room.
A. she left the room, saying a word.
B. Leaving the room, she said nothing.
C. She left the room and say nothing
D. She left the room without saying a word
Change sentences into reported speech
32. Helen said to John " I will give you a ring when I arrive ".
 Helen promised ...............................................................................................................
33. John said to Helen " Remember to keep in touch ".
 John reminded Helen ...........................................................................................................
34. Helen said to John " Thank you for the good time we had together ".
 Helen thanked ....................................................................................................................
35."You look nice today. I like your new hairstyle." ~ "______________________."
A. It's nicing of you to think so.	B. Shall I? Thanks.
C. Oh well done!	D. I feel interesting to hear that
36. He advised her thinking about that example again because it needed correcting.
 A B C D
V – Listening: (2, points)
Part I: Listen and choose the best answer by circling A,B , C or D to complete the passsage: (1mark)
 Families in the Western world have changed greatly during the last (1) . centuries. Social scientists say that this change in the Family is one of the imporrtant changes from a traditional society to a modern society.
 Before the (2).. century, family usually arranged marriages for their children. Young people did not decide who they wanted to marry. After they got married, they usually had a lot of children. In the 19th century, most young people could not choose the person they wanted to marry. A marriage joined (3).. people not two families. Two people could get married because they loved each other, not just because their families wanted to marry. At that time, parents began to realize that they had to take very good (4).of. their children. Before this, most people did not go to school. The family members all worked together at home. Later, people realized that education was necessary for a good life.
* Listen and decide the statements are true ( T) or false ( F). ( 1mark) 
 1. Families in the Western world have changed much in the 200 years. 
 2. In the 19th century, most young people could not choose theperson they wanted to marry.
 3. people realized that education was necessary for a good life.
 4. Today many parents want to have fewer children and take care of their health and give them an education.
THE END

Tài liệu đính kèm:
de_kiem_tra_45_phut_so_1_mon_tieng_anh_lop_12.docx