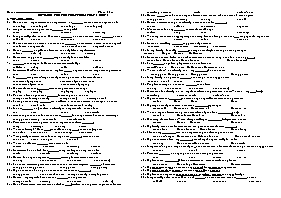 I. VOCABULARIES.
1. He has been very interested in doing research on _______ since he was at high school.
a. biology b. biological c. biologist d. biologically
2. Are you sure that boys are more _______ than girls?
a. act b. active c. action d. activity
3. It is generally believed that "Men make _______ house and women make _______ home".
a. Ø / Ø b. a / an c. the / the d. an / the
4. Most doctors and nurses have to work on a _______ once or twice a week at the hospital.
a. solution b. night shift c. household chores d. special dishes
5. He is a _______ boy. He is often kind and helpful to every classmate.
a. frank b. lovely c. obedient d. caring
6. Doctors are supposed to _______ responsibility for human life.
a. do b. take c. rush d. join
Bạn đang xem tài liệu "Đề kiểm tra Unit 1 môn Tiếng Anh Lớp 12", để tải tài liệu gốc về máy bạn click vào nút DOWNLOAD ở trên
Name : Class: 12A
REVISION FOR THE FIRST TERM TEST 1: UNIT 1
I. VOCABULARIES.
He has been very interested in doing research on _______ since he was at high school.
a. biology 	b. biological 	c. biologist 	d. biologically
Are you sure that boys are more _______ than girls?
a. act 	b. active 	c. action 	d. activity
It is generally believed that "Men make _______ house and women make _______ home".
a. Ø / Ø 	b. a / an 	c. the / the	d. an / the
Most doctors and nurses have to work on a _______ once or twice a week at the hospital.
a. solution 	b. night shift 	 c. household chores 	d. special dishes
He is a _______ boy. He is often kind and helpful to every classmate.
a. frank 	b. lovely 	c. obedient 	d. caring
Doctors are supposed to _______ responsibility for human life.
a. do 	b. take 	c. rush 	d. join
_______ sure that you follow the instructions carefully. 
a. Believe 	b. Try 	c. Do 	d. Make
Sometimes Mr. Pike has to work very late _____ night to do some important experiments
a. in 	b. at 	c. for 	d. on
It _______ it is parents' responsibility to take good care of their children.
a. commonly says that 	b. commonly to be said that 
c. is commonly said that 	d. is commonly saying
Most children enjoy _______ with their parents and sibships.
a. play 	b. to play	 	c. playing 	d. played
You are old enough to take _______ for what you have done.
a. responsible b. responsibility 	c. responsibly 	 d. irresponsible
These quick and easy _______ can be effective in the short term, but they have a cost.
a. solve 	b. solvable 	c. solutions 	d. solvability
John is _______ only child in his family so his parents love him a lot.
a. a 	b. an 	c. the 	d. no article
According to the boss, John is the most _______ for the position of executive secretary.
a. supportive b. caring 	c. suitable 	d. comfortable
Peter tried his best and passed the driving test at the first _______.
a. try 	b. attempt 	c. doing 	d. aim
Where is Jimmy? - He is ____ work. He is busy ____ his monthly report.
a. on / for 	b. in / about 	c. to / through 	d. at / with
With greatly increased workloads, everyone is _______ pressure now.
a. under 	b. above 	c. upon 	d. out of
We are not allowed _______ jeans at school.
a. wear 	b. to wear 	c. wearing 	d. worn
Sometimes I do not feel like _______ to my sibling about my troubles.
a. talk 	b. to talk	 	c. talking 	d. talked
He was looking at his parents _______, waiting for recommendations.
a. obey	 	b. obedience 	c. obedient 	 d. obediently
The interviews with parents showed that the vast majority were _______ of teachers. 
a. support 	b. supportive 	c. supporter 	d. supporting
My husband and I both go out to work so we share the _______.
a. happiness 	b. household chores c. responsibility d. employment
He was very respectful at home and _______ to his parents.
a. responsible 	b. caring 	c. obedient 	d. lovely
One of Vietnamese traditions is a belief in ____ families and in preserving their cultures.
a. wealthy 	b. secure 	c. safe 	d. close-knit
He was _____ when I had those problems and said whatever I did he would stand by me. 
a. supportive 	b. exciting 	c. busy 	d. dull
He was determined to give his family a secure and solid _______.
a. base 	b. floor 	c. basement 	d. ground
It's hard work looking _______ three children all day.
a. after 	b. up 	c. to 	d. through
When my mother is busy preparing dinner, my father often gives a hand ___ tidying the living room.
a. on 	b. with 	c. for 	d. about
She is never willing _______ any personal question. 
 a. answer 	b. to answer 	c. answering 	d. answered
In my family, I usually _______the responsibility for taking out the garbage.
 	A. make B. get 	C. take	D. Become
Some candidates failed the oral examination because they didn't have enough____.
A. confide B. confident C. confidence 	D. confidential
That_______boy often plays tricks on his friends. 
A. well-behave B. honest C. Obedient D. mischievous
We are a close- knit family and very_______of one another. 
	A. support B. supportive	C. supported 	D. supporter
In my family, both parents _______ hands to give us a happy home. 
 a. shake 	b. hold 	c. join 	 d. take
People in society have to act in _______ to the law.
a. obey 	b. obedience	c. obedient 	d. obediently
Members of our family have a very close relationship with each other. We are a very___family.
a. wealthy 	b. secure 	c. safe 	d. close-knit
My mother works _______a nurse in a big hospital. She examines the patients. 
A. for 	B. as	C. in	D. at
My responsibility is to wash dishes and _______the garbage. 
A. take off 	B. take out	C. take care of	D. take over
Whenever problems come up, we discuss frankly and find _______quickly. 
A. solve	B. solution C. solved	D. to solve
Mai is my closest friend. We are always willing to _______feelings to each other. 
A. tear	B. cut C. share	D. shake
My family is the base from which we can go into the world with _______. 
A. confide	B. confidence	C. confident	D. confiding
I like doing _______such as cooking, washing and cleaning the house. 
A. house-keeper	B. white house C. lord of house	 D. household chores
My brothers are often very _______to what I say. They are really lovable. 
A. obey	B. obedience C. obedient	D. obstacle
It is parents' duty and responsibility to _ hands to tae care of their children and give them a happy home.
	a. shake 	b. hold 	c. join 	d. take
Peter was _______ a hurry to go so he did not stop to greet me.
	a. in 	b. on 	c. with 	d. over
My father is a _______He often does researches with animals and plants.
A. botanist	B. biologist C. chemist	D. mathematician
My mother works in a doctor in a big hospital. She examines the patients.
My responsibility is to wash dishes and take off the garbage.
My father and my mom joins hands to give us safety, security and happy family.
It is generally believed that "Men build ______ house and women make it_______ home".
	a. Ø / Ø 	b. a / an 	c. the / the	d. an / the
II. PRONUNCIATION
A. proofs	B. books	C. points	D. days
A. helps	B. laughs	C. cooks	D. finds
A. neighbors 	B. friends 	C. relatives 	D. photographs
A. cities 	B. satellites 	C. series 	D. workers
A. proofs 	B. regions 	C. lifts 	D. rocks
A. nations	B. speakers	C. languages	D. minds
A. chores	B. dishes	C. houses	D. coaches
A. wishes	B. practices	C. introduces	D. leaves
A. grasses 	B. stretches 	C. comprises 	D. potatoes
A. repeats 	B. classmates 	C. amuses 	D. attacks
III. GRAMMAR.
______ television when I phoned you?
A. Did you watch	 B. Were you watching	 C. Do you watch	D. Are you watching
Ann ______ for me when I arrived.
A. waited	 B. wait	C. are waiting 	D. was waiting
I ______ very fast when the accident happened.
A. didn't drive 	B. wasn't driving 	C. not drive 	D. am not driving
I ______ a plate last night while I was doing the washing.
A. break 	B. broke	 C. broken 	D. breaking
Tom ______ a photograph of me while I wasn't looking. A. take 	B. took	 C. taking	 D. taken
We could go out at that time because it ___very hard. A. rained 	B. rain 	C. rains 	D. was raining
While Angela wa cleaning her room, she ________ her lost earring.
A. is finding 	B. finds 	C. has found	 D. found
I was watching TV when she _______. A. call	 B. calling C. was calling 	D. called
When the phone_______ , she ______ a letter.
A. rang / was writing 	B. rang / wrote C. was ringing / wrote D. was ringing / was writing
What ________ when the earthquake_______ ?
A. are you doing / occur 	B. were you doing / occurred
C. did you do / was occuring 	D. do you do / occured
Sammy _______ for us when we got off the plane.
A. waited 	B. to wait 	C. wait 	D. was waiting
While I was writing the email, the computer suddenly______ .
A. go off 	B. to go off 	C. went off 	D. was going off
How ________ since we ________ school?
A. are you/ left 	B. will you be/ had left C. have you been/ had left D. have you been / left
I ________ my uncle's home many times when I ________ a child.
A. visited/ is	 B. visits/ was 	C. visited/ was	 D. visited/ were
. Please send us a post card as soon as you ________ in London.
A. will arrive 	B. is going to arrive 	C. arrive	 D. arrived
Two months ago my brother __ elected headmaster of his school and he ___ a vacation since then. 	A. was-hadn't had 	B. was-hasn't had 
	C. had been-didn't have 	D. had been-wouldn't have
Our principal _______ to Thailand several times.
	A. was	B. had been	C. is	D. has been
Yesterday morning my mother ___me a new bicycle as my old one __ stolen.
	A. bought-wasB. bought-had been C. had bought-was D. had bought-had been
"Did anyone see the thief?"-"No, he already __ away by the time we ____ in."
	A. ran-had come	 B. had run-came C. runs-have come D. has run-come
People reported that before help __them, a small child __of infantile paralysis.
	A.had reached-died B. reached-had died C. reaches-has died D.has reached-dies
"I _______ you at 9 tomorrow morning. Will that be OK?"
-"At 9? No, I _______ shopping with my mother." A. phone-will go 
B. am phoning- have gone	C. will phone-will be going D. have phoned-am going
I have learnt English for I was 10 years old.
She (A)was (B)sad after(C) she reads(D) her boyfriend's letter.
After(A) she had had(B) lunch, she had taken(C) a nap (D)
They had played (A)cards(B) since(C) 9 o'clock this morning (D)
It was(A) disappointing(B) that most(C) the students(D) didn't come.
Since(A) the early (B)20th century, women had (C) a lot of chances to pursue(D) their interest.
By the time you receive this letter, I___________for the USA
A. have left	B. will leave	C. will have left	D. am leaving
By the time I___________this report, I will give you a ring.
 A. type	B. will type	C. typed	D. will have typed
Andrew ________the test before, so he________ it very easy.
A. did/ had found	B. had done/ found C. was doing/ found	 D. did/ was founding
I'll read the book after I___________her. A. met	B. meet	C. will meet	D. would meet
By Christmas, I ___________for Mr. Smith for six years.
A. shall have been working B. shall work	C. have been working	D. shall be working
By the time last summer, you___________your studies
	A. completes	B. had completed	C. are completing D. will have completed
In the last hundred years, travelling___________much easier and more comfortable
	A. become	B. has become	C. became	D. will became
In the past, the trip___________very rough and often dangerous, but things_______a great deal in the last hundred and fifty years. 
A. was- have changed B. is- change	C. had been- will change	D. has been- changed 
You___________your hair long when you ___________ at school?
A.Did you wear/ are B.Did you wear/ were C.Do you wear/ were D.Do you wear/ have been
Glenda _______ extremly hard when she was a student.
A. worked	B. has worked	C. was working	D. had been worked
When I come home, my mother ___________dinner.
A.had prepared	B. will have prepared	C. has prepared	D. was preparing
I ___________her your gift when I ___________her.
A. will give/ met	B. give/ will meet	C. will give/ will meet	 D. will give/ meet
I'll wait until you ____crying.
	A. have stopped	B. will stop	C. stop	D. stopped
 I _______ home until I finish my lesson.
A. haven't come	B. don't come	C. didn't come	D. won't come
When he was young, he___________in the army for 10 years.
A. has served	B. served	C. was serving	D. serves
When we see Mr Taylor tomorrow, I ___________him of that.
A. will remind	B. remind	C. am reminding	D. have reminded
I will see him when he ___________here tomorrow.
A. will come	B. comes	C. came	D. is coming
When we came, a party___________in the hall.
 A. is being held	B. had being held	C. will be held	D. was being held
He ___________ the dog out for a walk by the time he has dinner.
A. will take	B. had taken	C. has taken 	D.would take 
She won't get married until she ___________25 years old. 
 A. is 	B. will be 	C. had been 	D. was.
When Rita will get her driver's license next week , she will be able to drive to school every day.
I will tell her the news when I will meet her tomorrow.

Tài liệu đính kèm:
de_kiem_tra_unit_1_mon_tieng_anh_lop_12.docx