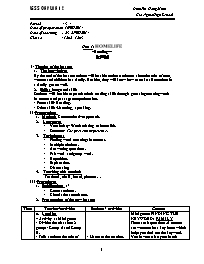 I/ The aim of the lesson:
1. The knowledge:
By the end of the lesson students will be able understand more about the role of men, women and children in a family. Besides, they will know how to make all members in a family get on well.
2. Skills: Integrated skills
Students will be able to practise their reading skills through guessing meaning words in context and passage comprehension.
– Focus skill: Reading.
– Other skills: Listening, speaking.
II/ Preparation:
1. Method: Communicative approach.
2. Language:
– Vocabulary: Words relating to home life.
– Structure: The present simple tense.
3. Techniques:
– Finding word meanings in context.
– Multiple choices.
– Answering questions.
– Pair work and group work.
– Repetition.
– Explanation.
– Discussing.
4. Teaching aids needed:
 Textbook, chalk, board, pictures
III/ Procedure:
1. Stabilization: 1'
– Greets students.
– Checks the attendance.
2. Presentation of the new lesson:
Bạn đang xem tài liệu "Giáo án Tiếng Anh Lớp 12 – Unit 1: Home life – Period 3+4: Reading – Năm học 2014-2015 – Đinh Thị Hồng Minh", để tải tài liệu gốc về máy bạn click vào nút DOWNLOAD ở trên
Period : 3, 4
Date of preparation: 16/08/2014
Date of teaching : 23, 25/08/2014
Classes : 12A2, 12A3
Unit 1: HOME LIFE
--Reading—
Ñ&Ð
 I/ The aim of the lesson:
The knowledge:
By the end of the lesson students will be able understand more about the role of men, women and children in a family. Besides, they will know how to make all members in a family get on well.
Skills: Integrated skills
Students will be able to practise their reading skills through guessing meaning words in context and passage comprehension.
- Focus skill: Reading.
- Other skills: Listening, speaking.
II/ Preparation:
Method: Communicative approach.
 Language:
Vocabulary: Words relating to home life.
Structure: The present simple tense.
 Techniques:
Finding word meanings in context.
Multiple choices.
Answering questions.
Pair work and group work.
Repetition.
Explanation.
Discussing.
 Teaching aids needed:
 Textbook, chalk, board, pictures
III/ Procedure:
Stabilization: 1'
Greets students.
Checks the attendance.
Presentation of the new lesson:
Time
Teacher's activities
Students' activities
Content
Lead in: 
* Activity 1: Mini game 
- Divides the class into 2 groups: Group A and Group B.
- Tells students the rule of the game.
- Lets students play the game.
- Congratulates the winner.
- Leads to the new lesson.
Pre-reading: 
* Activity 2: Discussing
- Asks students to look at the picture in their textbook and answer some questions.
- Asks one student to give the answers.
- Gives feedbacks.
* Activity 3: Introducing new words:
- Introduces some new words.
- Reads aloud these new words then asks students to repeat.
- Asks some students to read aloud these new words again.
- Reads aloud the whole passage.
c. While reading: 
* Activity 4: Task 1
- Asks students to look through the reading text to find out adjectives used to describe the mother, the father, the daughter, the boys and the family.
- Asks some students to give the answers.
- Gives feedbacks.
* Activity 5: Task 2
- Asks students to read these sentences carefully and find out the correct answers.
- Asks some students to give the answers.
- Gives feedbacks.
* Activity 6: Task 3
- Asks students find out the key words in these questions.
- Asks students to work in pairs to do the task.
- Asks some students to give the answers.
- Gives feedbacks.
- Listen to the teacher.
- Play the game.
- Listen to the teacher.
- Listen to the teacher.
- Answer teacher's questions.
- Some student gives the answers.
- Listen to the teacher.
Individual works.
- Listen to the teacher to guess the meaning of these words and take notes on their notebooks 
- Listen and repeat.
- Some students read aloud these new words.
- Listen carefully.
- Do the task.
- Some students give the answers.
- Listen to the teacher.
- Discuss with their partners to do the task.
- Some student give the answer.
- Listen to the teacher.
- Find out the key words in these questions.
- Do the task.
- Some students give the answers.
- Listen to the teacher.
Mini game: FINDING THE KEY WORD: FAMILY
There are 6 questions. A correct answer contains a key letter which helps you find out the key word. You have to raise your hands quickly to get the right to answer. Having a correct answer for a question you will get 10 marks. Finding out the key word helps you get 30 marks. At the end, the group which has more marks will be the winner.
- 9 letters: the meal in the morning (Breakfast)
- 4 letters: what do you call the person who is your mother's younger sister? (Aunt)
- 6 letters: the same meaning with mom (Mother)
- 4 letters: the noun of verb "live" (Life)
- 5 letters: show the picture and ask "How does she/ he feel?" (Happy)
Questions: 
+ Where is the family? 
+ What is each member of the family doing?
+ Are they happy?
New words:
+ join hands (phr)
+ care (v), (n)
 caring (adj)
 careful (adj)
 carefully (adv)
 careless (adj)
+ responsibility for (phr)
+ household chores (phr)
+ mischievous (adj)
+ obey (v)
 obedient (a)
+ support (v)
 supportive (adj)
* Task 1: Find out adjectives
Suggested answers:
- The mother: busy, caring, responsible, and supportive.
- The father: busy, willing to help, supportive.
- The daughter: busy, responsible, supportive.
- The boys: mischievous, obedient, hard- working and supportive.
- The family: close- knit.
* Task 2: Choose the sentence A, B, C that is nearest in meaning to the given sentence:
Suggested answers:
1. B 
2. C 
3. A
4. B
5. A 
* Task 3: Answer the questions.
Suggested answers:
1. Very busy. They have to work long hours and sometimes they have to work at night.
2. She is always the 1st one to get up before her husband comes home.
3. The daughter helps with household chores:  or mend things around the house at weekends.
4. She attempts to win a place at university.
5. Because they are very close- knit and supportive of one anotherand find solutions quickly.
Consolidation: 
 	Compare the family in the reading text with their own family.
Homework: 
- Learn all new words by heart.
- Prepare for the new lesson.
 5. Experience after the lesson:
- Content:
- Method:
- Time:
- Students:

Tài liệu đính kèm:
giao_an_tieng_anh_lop_12_unit_1_home_life_period_34_reading.doc