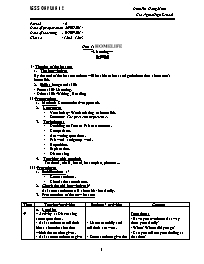 I/ The aim of the lesson:
1. The knowledge:
By the end of the lesson students will be able to hear and get information about one's home life.
2. Skills: Integrated skills
– Focus skill: Listening.
– Other skills: Writing, Reading.
II/ Preparation:
1. Method: Communicative approach.
2. Language:
– Vocabulary: Words relating to home life.
– Structure: The present simple tense.
3. Techniques:
– Deciding on True or False statements.
– Comparison.
– Answering questions.
– Pair work and group work.
– Repetition.
– Explanation.
– Discussing.
4. Teaching aids needed:
 Textbook, chalk, board, lesson plan, pictures.
III/ Procedure:
1. Stabilization: 1'
– Greets students.
– Checks the attendance.
2. Check the old knowledge: 6'
 Asks one student to talk about his/ her family.
3. Presentation of the new lesson:
Bạn đang xem tài liệu "Giáo án Tiếng Anh Lớp 12 – Unit 1: Home life – Period 6: Listening – Năm học 2014-2015 – Đinh Thị Hồng Minh", để tải tài liệu gốc về máy bạn click vào nút DOWNLOAD ở trên
Period : 6
Date of preparation: 26/08/2014
Date of teaching : 03/09/2014
Classes : 12A2, 12A3
Unit 1: HOME LIFE
--Listening—
Ñ&Ð
 I/ The aim of the lesson:
The knowledge:
By the end of the lesson students will be able to hear and get information about one's home life.
Skills: Integrated skills
- Focus skill: Listening.
- Other skills: Writing, Reading.
II/ Preparation:
Method: Communicative approach.
 Language:
Vocabulary: Words relating to home life.
Structure: The present simple tense.
 Techniques:
Deciding on True or False statements.
Comparison.
Answering questions.
Pair work and group work.
Repetition.
Explanation.
Discussing.
 Teaching aids needed:
 Textbook, chalk, board, lesson plan, pictures...
III/ Procedure:
Stabilization: 1'
Greets students.
Checks the attendance.
Check the old knowledge: 6'
 	Asks one student to talk about his/ her family.
Presentation of the new lesson:
Time
Teacher's activities
Students' activities
Content
4'
5'
10'
15'
Lead in: 
* Activity 1: Discussing some questions.
- Asks students to tell their ideas about the situation which the teacher gives.
- Asks some students to give the answers.
- Gives feedbacks.
Pre-listening: 
* Activity 2: Discuss the picture in the textbook.
- Asks students to answer some questions.
- Goes around to help.
- Asks one student to give the answers.
- Gives feedbacks.
* Activity 3: Teaching new words.
- Introduces some new words.
- Asks students to listen and repeat.
- Asks some students to read aloud these words again.
- Asks students to listen and repeat all words in part Before you listen.
c. While listening: 
* Activity 4: Task 1
- Asks students to find out the key words in these statements.
- Asks some students to give the answers.
- Asks them to listen to the tape twice.
- Asks them to discuss the answers with their partners.
- Asks some students to give the answers.
- Lets them listen again to check.
* Activity 5: Task 2
- Tells students the requirement of the task and explain.
- Lets students listen to the tape twice.
- Asks students to discuss with their partners.
- Asks some students to give the answers.
- Gives feedbacks.
- Listen carefully and tell their answers.
- Some students give the answers.
- Listen to the teacher.
- Listen to the teacher.
- Some sts give answers.
- Listen to the teacher.
- Listen to the teacher to guess the meaning of these words and take notes on their notebooks 
- Listen and repeat.
- Some students read aloud these new words.
- Listen and repeat.
- Find out the key words.
- Some students give the answers.
- Listen carefully.
- Discuss with their partners.
- Some students give the answers.
- Listen carefully.
- Listen carefully.
- Listen carefully.
- Discuss with their partners.
- Some students give the answers.
- Listen carefully.
Questions:
- Have you ever been far away from your family?
- When? Where did you go?
- Can you tell me your feeling at that time?
- Did you feel homesick and want to come home? 
Questions:
- Can you guess the relationship between people in this picture?
- What are they doing?
- How do they feel?
Suggested answers:
- They are members in a family.
- They are having a big meal together.
- They feel happy.
New words:
- fly (v)
 flight (n)
- reserved (adj)
- coach (n)
- spread out (phr)
- leftover (n)
Suggested answers:
T
F
F
T
T
Suggested answers:
Paul
Andrea
- His family members are not very close.
- The family often eat the meals the mother cooks at home.
- Hers is a very close-knit family.
- The family often go out to eat when they get together.
Consolidation: 4'
Asks students to talk about their partner's family basing on the information they have collected in Task 3.
Homework: 
- Talk about students' family.
- Prepare for the new lesson.
 5. Experience after the lesson:
- Content:
- Method:
- Time:
- Students:

Tài liệu đính kèm:
giao_an_tieng_anh_lop_12_unit_1_home_life_period_6_listening.doc