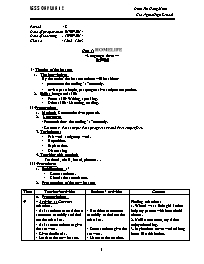 I/ The aim of the lesson:
1. The knowledge:
By the end of the lesson students will be able to:
– pronounce the ending "s" correctly.
– revise past simple, past progressive and present perfect.
2. Skills: Integrated skills
– Focus skill: Writing, speaking.
– Other skills: Listening, reading.
II/ Preparation:
1. Method: Communicative approach.
2. Language:
– Pronunciation: the ending "s" correctly.
– Grammar: Past simple, Past progressive and Present perfect.
3. Techniques:
– Pair work and group work.
– Repetition.
– Explanation.
– Discussing.
4. Teaching aids needed:
 Textbook, chalk, board, pictures
III/ Procedure:
1. Stabilization: 1'
– Greets students.
– Checks the attendance.
2. Presentation of the new lesson:
Bạn đang xem tài liệu "Giáo án Tiếng Anh Lớp 12 – Unit 1: Home life – Period 8: Language focus – Năm học 2014-2015 – Đinh Thị Hồng Minh", để tải tài liệu gốc về máy bạn click vào nút DOWNLOAD ở trên
Period : 8
Date of preparation: 07/09/2014
Date of teaching : 10/09/2014
Classes : 12A2, 12A3
Unit 1: HOME LIFE
--Language focus—
Ñ&Ð
 I/ The aim of the lesson:
The knowledge:
By the end of the lesson students will be able to:
- pronounce the ending "s" correctly.
revise past simple, past progressive and present perfect.
Skills: Integrated skills
Focus skill: Writing, speaking.
Other skills: Listening, reading.
II/ Preparation:
Method: Communicative approach.
 Language:
- Pronunciation: the ending "s" correctly.
- Grammar: Past simple, Past progressive and Present perfect.
3. Techniques:
Pair work and group work.
Repetition.
Explanation.
Discussing.
4. Teaching aids needed:
 Textbook, chalk, board, pictures
III/ Procedure:
Stabilization: 1'
Greets students.
Checks the attendance.
Presentation of the new lesson:
Time
Teacher's activities
Students' activities
Content
5'
8'
15'
7'
7'
Pronunciation: 
* Activity 1: Correct mistakes.
- Asks students to read these sentences carefully and find out the mistakes.
- Asks some students to give the answers.
- Gives feedbacks.
- Leads to the new lesson.
* Activity 2: Practice
- Asks students to recall the rule of pronouncing the ending "s".
- Ask them to look at the textbook, listen and repeat.
- Ask some students to read aloud these words again.
- Give remarks.
- Asks students to practice the sentences in the textbook.
Grammar: 
* Activity 3: Tense revision
- Recalls past simple, past progressive and present perfect.
- Asks students to pay attention to the difference between past simple and present perfect tense.
* Activity 4: Exercise 1
- Asks students to do the exercise individually and then compare their answers in pairs.
- Moves round to conduct the activity.
- Asks some students to give the answers.
- Checks the correct answers.
* Activity 5: Exercise2
- Asks students to do Exercise 2 individually and then share the answers with their friends.
- Moves round to help if necessary.
- Asks some students to give the answers.
- Checks and gives remarks.
- Read these sentences carefully to find out the mistakes.
- Some students give the answers.
- Listen to the teacher.
- Recall.
- Listen to the teacher.
- Listen and repeat.
- Some students read aloud these words again.
- Listen to the teacher.
- Practice the sentences in the textbook.
- Listen to the teacher and take notes.
- Pay attention to the difference.
- Do the task.
- Some students give the answers.
- Listen to the teacher.
Finding mistakes:
1. When I was a little girl I often help my parents with household chores.
2. Unlike most men, my father enjoyed cooking.
3. My brothers never worked long hours like this before.
/s/ /z/
bats bags
speaks speeds
dates days
kits kids
TENSES REVISION:
* Past simple tense:
- Forms
- Uses
- Adverbs
* Past progressive:
- Forms
- Uses
- Adverbs
* Present perfect:
- Forms
- Uses
- Adverbs
* The difference between past simple and present perfect:
Past simple
Present perfect
- In the past with a definite time.
- Finish in the past.
- Indefinite time.
- Last to present, may be in the future.
* Exercise 1:
Suggested answers:
1. Have you seen?
2. Have you enjoyed?
3. Has been married
4. Did you give/ saw
Exercise 2: 
Suggested answers:
1.B 2.C 3.A
4.A 5.B 6.B
7.B 8.C 9.B
10.C 11.B 12.C
13.C 14.A 15.B
Consolidation: 2'
Asks students to recall the rule of pronunciation the ending "s"
Homework: 
- Learn all new words by heart.
- Prepare for the new lesson.
 5. Experience after the lesson:
- Content:
- Method:
- Time:
- Students:

Tài liệu đính kèm:
giao_an_tieng_anh_lop_12_unit_1_home_life_period_8_language.doc