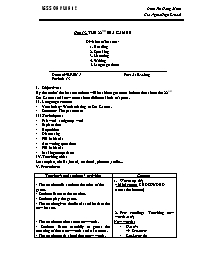 I. Objectives:
By the end of the lesson students will be able to get more information about the 22nd Sea Games and know more about different kinds of sports.
II. Language content
– Vocabulary: Words relating to Sea Games.
– Structure: The past tenses
III. Techniques:
– Pair work and group work
– Explanation
– Repetition
– Discussing
– Fill in blanks
– Answering questions
– Fill in blanks
– Making comparison
IV. Teaching aids:
Lesson plan, chalks, board, textbook, pictures, audio.
V. Procedure:
Bạn đang xem tài liệu "Giáo án Tiếng Anh Lớp 12 – Unit 13: The 22nd Sea Games – Period 73: Reading – Năm học 2014-2015 – Đinh Thị Hồng Minh", để tải tài liệu gốc về máy bạn click vào nút DOWNLOAD ở trên
Unit 13: THE 22ND SEA GAMES
Division of lessons:
1. Reading
2. Speaking
3. Listening
4. Writing
5. Language focus
 ___________________________________________________________
 Date: 09/02/2015 Part A: Reading
 Period: 73
Objectives: 
By the end of the lesson students will be able to get more information about the 22nd Sea Games and know more about different kinds of sports.
Language content
Vocabulary: Words relating to Sea Games.
Structure: The past tenses
Techniques:
Pair work and group work
Explanation
Repetition
Discussing
Fill in blanks
Answering questions
Fill in blanks
Making comparison
Teaching aids:
Lesson plan, chalks, board, textbook, pictures, audio...
V. Procedure:
Teacher's and students' activities
Content
- The teacher tells students the rules of the game.
- Students listen to the teacher.
- Students play the game.
- The teacher gives feedbacks and leads to the new lesson.
- The teacher teaches some new words.
- Students listen carefully to guess the meaning of these new words and take notes.
- The teacher reads aloud these new words.
- Students listen and repeat.
- The teacher asks some students to read aloud these new words again.
- Some students read aloud these words again.
- The teacher listens and gives feedbacks. 
- The teacher lets students listen to the passage.
- The teacher asks students to work in pairs to do the task.
- Students do the task with their partners.
- The teacher asks some students to give answers.
- The teacher gives feedbacks.
- The teacher asks students to find out the key words in these questions.
- Students do as the teacher said.
- The teacher asks students to work in pairs to do the task.
- Students do the task with their partners.
- The teacher asks some students to give answers.
- The teacher gives feedbacks.
- The teacher gives the activity.
- The teacher asks students to give the answers.
- Students gives the answers.
- The teacher tells the homework.
- Students listen and take notes.
Warm up (6')
* Mini game: CROSS WORD
(see at the bottom)
Pre- reading: Teaching new words. (10')
New words:
Host (v) 
Synonym
Solidarity (n)
Use picture and explain
Rank (v)
Defend (v)
Countryman (n)
Definition
Title (n)
While- reading:
Task 2: Fill in blanks (9')
From the 5th to 13th December, 2003.
Modern technology was used to increase precision.
Second with 90 golds.
Was Thailand.
Some point between 2010 and 2015.
Task2: Answer the questions. (15')
It was solidarity, co-operation for peace and development.
444 gold medals were won at the Sea Games.
Singapore and Vietnam had participants who were presented with the Most Outstanding Athlete titles in the Swimming and Shooting Events.
The Vietnamese Women's Football Team successfully defended the Sea Games title.
Post- reading: (4')
Listing the names of some Vietnamese athletes you love.
5. Homework: (1')
- Leaning all new words by heart
- Preparing for the new lesson.
VI. Comments:

Tài liệu đính kèm:
giao_an_tieng_anh_lop_12_unit_13_the_22nd_sea_games_period_7.doc