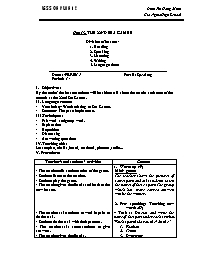 I. Objectives:
By the end of the lesson students will be able to talk about the results and some of the records at the 22nd Sea Games.
II. Language content
– Vocabulary: Words relating to Sea Games.
– Structure: The past simple tense.
III. Techniques:
– Pair work and group work.
– Explanation
– Repetition
– Discussing
– Answering questions
IV. Teaching aids:
Lesson plan, chalks, board, textbook, pictures, audio.
V. Procedure:
Bạn đang xem tài liệu "Giáo án Tiếng Anh Lớp 12 – Unit 13: The 22nd Sea Games – Period 74: Speaking – Năm học 2014-2015 – Đinh Thị Hồng Minh", để tải tài liệu gốc về máy bạn click vào nút DOWNLOAD ở trên
Unit 13: THE 22ND SEA GAMES
Division of lessons:
1. Reading
2. Speaking
3. Listening
4. Writing
5. Language focus
 ___________________________________________________________
 Date: 14/02/2015 Part B: Speaking
 Period: 74
Objectives: 
By the end of the lesson students will be able to talk about the results and some of the records at the 22nd Sea Games.
Language content
Vocabulary: Words relating to Sea Games.
Structure: The past simple tense.
Techniques:
Pair work and group work.
Explanation
Repetition
Discussing
Answering questions
Teaching aids:
Lesson plan, chalks, board, textbook, pictures, audio...
V. Procedure:
Teacher's and students' activities
Content
- The teacher tells students rules of the game.
- Students listen to the teacher.
- Students play the game.
- The teacher gives feedbacks and leads to the new lesson.
- The teacher asks students to work in pairs to do the task.
- Students do the task with their partners.
- The teacher asks some students to give answers.
- The teacher gives feedbacks.
- The teacher asks students to study the table carefully.
- Students do as the teacher said.
- The teacher makes an example to help students do the task.
- The teacher asks students to work in pairs to do the task.
- Students do the task with their partners.
- The teacher asks some students to give answers.
- The teacher gives feedbacks.
- The teacher asks students to work in pairs to do the task.
- Students do the task in groups.
- The teacher asks some students to give answers.
- The teacher gives feedbacks.
- The teacher asks students some questions.
- Students give answers.
- The teacher gives feedbacks.
- The teacher tells the homework.
- Students listen and take notes.
Warm up (5')
Mini- game:
The teacher shows the pictures of some sports and asks students to tell the names of these sports. The group which has more correct answers will be the winner.
Pre- speaking: Teaching new words. (8')
* Task 1: Discuss and write the name of the sport under each symbol.
Which sport(s) do you like/ dislike?
Football
Tennis
Swimming
Cycling
Basketball
Athletics
While- speaking:
* Task 2: Talk about some of the records at the 22nd Sea Games, using the information in the table below. (13')
Eg: Boonthung, the Thai, won the Men's 200 metres. He ran 200 metres in 20.14 seconds.
* Task 3: Make a report on the sports results, using the information in the scoreboard. (13') 
Eg: Vietnam and Myanmar played in the Women's Football Final. The Vietnamese team won the gold medal. The result (score) was 2- 1.
Post- speaking: (5')
Asks students some questions about the scoreboard at the 22nd Sea Games:
What was the score of the Women's Football Final?
Who took part in the Men's Football Final?
Who won the gold medal in Women's Volleyball Final?
5. Homework: (1')
- Learning all new words by heart
- Preparing for the new lesson.
VI. Comments:

Tài liệu đính kèm:
giao_an_tieng_anh_lop_12_unit_13_the_22nd_sea_games_period_7.doc