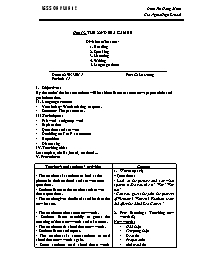 I. Objectives:
By the end of the lesson students will be able to listen to some newspaper article and get information.
II. Language content
– Vocabulary: Words relating to sports.
– Structure: The past tenses.
III. Techniques:
– Pair work and group work
– Explanation
– Questions and answers
– Deciding on T or F statements
– Repetition
– Discussing
IV. Teaching aids:
Lesson plan, chalks, board, textbook.
V. Procedure:
Bạn đang xem tài liệu "Giáo án Tiếng Anh Lớp 12 – Unit 13: The 22nd Sea Games – Period 75: Listening – Năm học 2014-2015 – Đinh Thị Hồng Minh", để tải tài liệu gốc về máy bạn click vào nút DOWNLOAD ở trên
Unit 13: THE 22ND SEA GAMES
Division of lessons:
1. Reading
2. Speaking
3. Listening
4. Writing
5. Language focus	
 ___________________________________________________________
 Date: 02 /03 /2015 Part C: Listening
 Period: 75
Objectives: 
By the end of the lesson students will be able to listen to some newspaper article and get information.
Language content
Vocabulary: Words relating to sports.
Structure: The past tenses.
Techniques:
Pair work and group work
Explanation
Questions and answers
Deciding on T or F statements
Repetition
Discussing
Teaching aids:
Lesson plan, chalks, board, textbook...
V. Procedure:
Teacher's and students' activities
Content
- The teacher asks students to look at the picture in their textbook and answer some questions.
- Students listen to the teacher and answer these questions.
- The teacher gives feedbacks and leads to the new lesson.
- The teacher teaches some new words.
- Students listen carefully to guess the meaning of these new words and take notes.
- The teacher reads aloud these new words.
- Students listen and repeat.
- The teacher asks some students to read aloud these new words again.
- Some students read aloud these words again.
- The teacher listens and gives feedbacks. 
- The teacher asks students to find out the key words in these questions.
- Students find out the key words.
- The teacher lets students listen to the tape twice.
- Students listen carefully.
- The teacher asks students to discuss the answers with their partners.
- Students discuss with their partners.
- The teacher asks some students to give answers.
- Some students give answers.
- The teacher lets students listen again to check.
- The teacher gives feedbacks.
- The teacher asks students to find out the key words in these questions.
- Students find out the key words.
- The teacher lets students listen to the tape twice.
- Students listen carefully.
- The teacher asks students to discuss the answers with their partners.
- Students discuss with their partners.
- The teacher asks some students to give answers.
- Some students give answers.
- The teacher lets students listen again to check.
- The teacher gives feedbacks.
- The teacher raises the question.
- Students discuss the question with their partners.
- The teacher tells the homework.
- Students listen and take notes.
Warm up: (5)
* Questions:
- Look at the picture and say what sport it is. Do you like it? Why? Why not?
- Can you guess the jobs the players of Vietnam's Women's Football team did after the 22nd Sea Games?
Pre- listening: Teaching new words (8)
New words:
Odd (adj)
Tempting (adj)
Deal (n)
Proposal (n)
Milkmaid (n)
Podium (n)
While- listening: 
Task 1: Listen to the first newspaper article about Amnat, the winner in the 22nd Southest Asian Games Pole Vaulting competition, and answer the questions. (13')
Task 2: Listen to the second newspaper article about the players of Vietnam's Women's Football team and decide whether the statements are T or F. (13)
Post- listening: (5)
Question: Which Vietnamese footballer(s) do you like best? Why?
5. Homework: (1)
- Leaning all new words by heart
- Preparing for the new lesson.
VI. Comments:

Tài liệu đính kèm:
giao_an_tieng_anh_lop_12_unit_13_the_22nd_sea_games_period_7.doc

Anh Đến Từ Giấc Mơ – Đoàn Thúy Trang (Official 4K MV).mp3

Barcelona 2 – 1 Real Madrid 26⁄10⁄2013 Long Trời Lỡ Đất.mp3

E 12 LISTEN UNIT 13.mp3