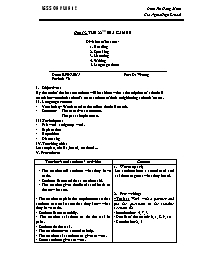 I. Objectives:
By the end of the lesson students will be able to write a description of a football match between their school's team and one of their neighboring schools' teams.
II. Language content
– Vocabulary: Words used to describe a football match.
– Structure: + The narrative statements.
 + The past simple tense.
III. Techniques:
– Pair work and group work.
– Explanation
– Repetition
– Discussing
IV. Teaching aids:
Lesson plan, chalks, board, textbook.
V. Procedure:
Bạn đang xem tài liệu "Giáo án Tiếng Anh Lớp 12 – Unit 13: The 22nd Sea Games – Period 76: Writing – Năm học 2014-2015 – Đinh Thị Hồng Minh", để tải tài liệu gốc về máy bạn click vào nút DOWNLOAD ở trên
Unit 13: THE 22ND SEA GAMES
Division of lessons:
1. Reading
2. Speaking
3. Listening
4. Writing
5. Language focus
 ___________________________________________________________
 Date: 02/03/2015 Part D: Writing
 Period: 76
Objectives: 
By the end of the lesson students will be able to write a description of a football match between their school's team and one of their neighboring schools' teams.
Language content
Vocabulary: Words used to describe a football match.
Structure: + The narrative statements.
 + The past simple tense.
Techniques:
Pair work and group work.
Explanation
Repetition
Discussing
Teaching aids:
Lesson plan, chalks, board, textbook...
V. Procedure:
Teacher's and students' activities
Content
The teacher tell students what they have to do.
Students listen and do as teacher said.
The teacher gives feedbacks and leads to the new lesson.
- The teacher explain the requirement so that students can make sure that they know what they have to do.
- Students listen carefully.
- The teacher asks them to do the task in pairs.
- Students do the task.
- The teacher moves around to help.
- The teacher asks students to give answers.
- Some students give answers.
- The teacher explain the requirement so that students can make sure that they know what they have to do.
- Students listen carefully.
- The teacher asks them to do the task in pairs.
- Students do the task.
- The teacher moves around to help.
- The teacher asks students to give answers.
- Some students give answers.
- The teacher instructs students how to do the task.
- Students look at the board and listen carefully.
- Students write their instructions.
- The teacher moves around to help.
- The teacher asks one student to go to the board to write down his/ her instruction.
- One student goes to the board and writes down.
- The teacher tells the homework.
- Students listen and take notes.
Warm up: (5)
Let students here a sound track and ask them to guess what they heard.
Pre- writing: 
*Task 1: Work with a partner and put the questions in the suitable sections: (8)
- Introduction: 4, 7, 3
- Details of the match: 6, 1, 8. 9, 10
- Conclusion: 2, 5
While- writing: 
* Task 2: Answer the above questions about a football match you have watched. (10)
* Task 3: Write a description of the football match mentioned above (21')
Useful language:
- in the 1st half/ second half
- keep the ball away from the goal
- by a combination of passing and dribbling
- give a kick (short) straight into the goal.
- save a shot at close range
4. Homework: (1)
- Leaning all new words by heart
- Preparing for the new lesson.
VI. Comments:

Tài liệu đính kèm:
giao_an_tieng_anh_lop_12_unit_13_the_22nd_sea_games_period_7.doc