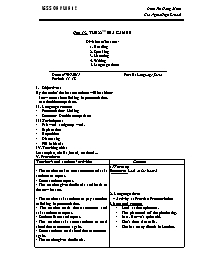 I. Objectives:
By the end of the lesson students will be able to:
+ know more about linking in pronunciation.
+ use double comparison.
II. Language content
– Pronunciation: Linking
– Structure: Double comparison
III. Techniques:
– Pair work and group work.
– Explanation
– Repetition
– Discussing
– Fill in blanks
IV. Teaching aids:
Lesson plan, chalks, board, textbook.
V. Procedure:
Bạn đang xem tài liệu "Giáo án Tiếng Anh Lớp 12 – Unit 13: The 22nd Sea Games – Period 77+78: Language focus – Năm học 2014-2015 – Đinh Thị Hồng Minh", để tải tài liệu gốc về máy bạn click vào nút DOWNLOAD ở trên
Unit 13: THE 22ND SEA GAMES
Division of lessons:
1. Reading
2. Speaking
3. Listening
4. Writing
5. Language focus
 ___________________________________________________________
 Date: 07/03/2015 Part E: Language focus
 Period: 77, 78
Objectives: 
By the end of the lesson students will be able to:
+ know more about linking in pronunciation.
+ use double comparison.
Language content
Pronunciation: Linking
Structure: Double comparison
Techniques:
Pair work and group work.
Explanation
Repetition
Discussing
Fill in blanks 
Teaching aids:
Lesson plan, chalks, board, textbook...
V. Procedure:
Teacher's and students' activities
 Content
- The teacher makes one sentence and asks students to repeat.
- Some students repeat.
- The teacher gives feedbacks and leads to the new lesson.
- The teacher asks students to pay attention to linking in pronunciation.
- The teacher reads these sentences and asks students to repeat.
- Students listen and repeat.
- The teacher asks some students to read aloud these sentences again.
- Some students read aloud these sentences again.
- The teacher gives feedbacks.
- The teacher tells about double comparison.
- Students listen and take notes.
- The teacher asks students to work in pairs to do the task.
- Students do the task with their partners.
- The teacher asks some students to give answers orally.
- Some students gives answers.
- The teacher gives feedbacks.
- The teacher asks students to work in pairs to do the task.
- Students do the task with their partners.
- The teacher asks some students to go to the board to write down the answers.
- Some students go to the board and write down the answers.
- The teacher checks the answers.
- Students look at the board, listen and take notes.
- The teacher asks students to work in pairs to do the task.
- Students do the task with their partners.
- The teacher asks some students to go to the board to write down the answers.
- Some students go to the board and write down the answers.
- The teacher checks the answers.
- Students look at the board, listen and take notes.
1.Warm up 
Sentence: Look at the board!
2. Language focus
 * Activity 1: Practise Pronunciation 
Listen and repeat:
Look at these pictures.
The plane took off despite the fog.
Mrs. Brown's quite old.
She's from Australia.
She has many friends in London.
* Activity 2: Double comparison
- Double comparative:
+ Short adjectives: Adj-er and Adj-er
Eg: The weather is hotter and hotter.
+ Long adjectives: more and more+ Adj
Eg: The lesson is more and more difficult.
- Associated comparative:
The+ comparative (Adj-er/ more+ Adj), the+ comparative (Adj-er/ more+ Adj)
Eg: The harder you study, the better you do the exam.
* Activity 3: Exercise 1 
1. c
2. e
3. a
4. b
5. d
6. g
7. f
* Activity 4: Exercise 2 
1. shorter and shorter
2. more and more expensive
3. worse and worse
4. more and more complicated
5. better and better
6. more and more active
7. more and more difficult
8. closer and closer
* Activity 5: Exercise 3 
1.  the better I feel
2.  the faster you will learn.
3.  the more impatient he became.
4.  the higher your bill will be.
5.  the better the service.
6.  the more I liked him.
7.  the more you want.
 VI. Comments

Tài liệu đính kèm:
giao_an_tieng_anh_lop_12_unit_13_the_22nd_sea_games_period_7.doc