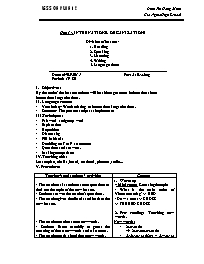 I. Objectives:
By the end of the lesson students will be able to get more information about international organizations.
II. Language content
– Vocabulary: Words relating to international organizations.
– Structure: The present and past simple tenses
III. Techniques:
– Pair work and group work
– Explanation
– Repetition
– Discussing
– Fill in blanks
– Deciding on T or F statements
– Questions and answers.
– Making comparison
IV. Teaching aids:
Lesson plan, chalks, board, textbook, pictures, audio.
V. Procedure:
Bạn đang xem tài liệu "Giáo án Tiếng Anh Lớp 12 – Unit 14: International organizations – Period 79+80: Reading – Năm học 2014-2015 – Đinh Thị Hồng Minh", để tải tài liệu gốc về máy bạn click vào nút DOWNLOAD ở trên
Unit 14: INTERNATIONAL ORGANIZATIONS
Division of lessons:
1. Reading
2. Speaking
3. Listening
4. Writing
5. Language focus
 ___________________________________________________________
 Date: 09/02/2015 Part A: Reading
 Period: 79, 80
Objectives: 
By the end of the lesson students will be able to get more information about international organizations.
Language content
Vocabulary: Words relating to international organizations.
Structure: The present and past simple tenses
Techniques:
Pair work and group work
Explanation
Repetition
Discussing
Fill in blanks
Deciding on T or F statements
Questions and answers.
Making comparison
Teaching aids:
Lesson plan, chalks, board, textbook, pictures, audio...
V. Procedure:
Teacher's and students' activities
Content
- The teacher asks students some questions to find out the topic of the new lesson.
- Students answer the teacher's questions.
- The teacher gives feedbacks and leads to the new lesson.
- The teacher teaches some new words.
- Students listen carefully to guess the meaning of these new words and take notes.
- The teacher reads aloud these new words.
- Students listen and repeat.
- The teacher asks some students to read aloud these new words again.
- Some students read aloud these words again.
- The teacher listens and gives feedbacks. 
- The teacher lets students listen to the passage.
- The teacher asks students to work in pairs to do the task.
- Students do the task with their partners.
- The teacher asks some students to give answers.
- The teacher gives feedbacks.
- The teacher asks students to find out the key words in these questions.
- The teacher asks students to work in pairs to do the task.
- Students do the task with their partners.
- The teacher asks some students to give answers.
- The teacher gives feedbacks.
- The teacher asks students to find out the key words in these questions.
- The teacher asks students to work in pairs to do the task.
- Students do the task with their partners.
- The teacher asks some students to give answers.
- The teacher gives feedbacks.
- The teacher gives the activity.
- The teacher asks students to give the answers.
- Students gives the answers.
- The teacher tells the homework.
- Students listen and take notes.
Warm up 
* Mini game: Guessing the topic
- What is the main color of Vietnamese flag?-> RED
- Draw a cross-> CROSS
-> THE RED CROSS
Pre- reading: Teaching new words. 
New words:
human (n) 
humanitarian (n)
dedicate to (phr) ≈ devote to (phr)
wounded (adj) ≈ injured (adj)
epidemic (n)
explain
famine (n)
Definition
federation (n)
mission (n) ≈ duty (n)
catastrophe (n) 
explain
tsunami (n)
show picture
While- reading:
Task 1: Complete the sentences:
Dedicated
Appealed
Initiated
Appalled
Resulted
Task 2: Decide whether the statements are T or F:
F
T
T
F
T
Task 3: Answer the questions. 
The federation's mission is to improve the lives of vulnerable people who are victims of natural disasters, poverty and health emergencies.
181
People in the country can get quick help and supports when they are in difficulty.
Post- reading:
Asks students to fill in each space of the paragraph about The Red Cross.
5. Homework: 
- Leaning all new words by heart
- Preparing for the new lesson.
VI. Comments:

Tài liệu đính kèm:
giao_an_tieng_anh_lop_12_unit_14_international_organizations.doc