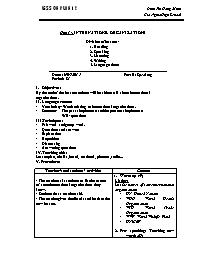 I. Objectives:
By the end of the lesson students will be able to talk about international organizations.
II. Language content
– Vocabulary: Words relating to international organizations.
– Structure: + The past simple tense and the present simple tense
 + WH- questions
III. Techniques:
– Pair work and group work.
– Questions and answers
– Explanation
– Repetition
– Discussing
– Answering questions
IV. Teaching aids:
Lesson plan, chalks, board, textbook, pictures, audio.
V. Procedure:
Bạn đang xem tài liệu "Giáo án Tiếng Anh Lớp 12 – Unit 14: International organizations – Period 81: Speaking – Năm học 2014-2015 – Đinh Thị Hồng Minh", để tải tài liệu gốc về máy bạn click vào nút DOWNLOAD ở trên
Unit 14: INTERNATIONAL ORGANIZATIONS
Division of lessons:
1. Reading
2. Speaking
3. Listening
4. Writing
5. Language focus
 ___________________________________________________________
 Date: 16/03/2015 Part B: Speaking
 Period: 81
Objectives: 
By the end of the lesson students will be able to talk about international organizations.
Language content
Vocabulary: Words relating to international organizations.
Structure: + The past simple tense and the present simple tense
 + WH- questions
Techniques:
Pair work and group work.
Questions and answers
Explanation
Repetition
Discussing
Answering questions
Teaching aids:
Lesson plan, chalks, board, textbook, pictures, audio...
V. Procedure:
Teacher's and students' activities
Content
- The teacher asks students to list the names of some international organizations they know.
- Students do as teacher said.
- The teacher gives feedbacks and leads to the new lesson.
- The teacher asks students to work in pairs to do the task.
- Students do the task with their partners.
- The teacher asks some students to give answers.
- The teacher gives feedbacks.
- The teacher asks students to do the task basing on the questions in Task 1.
- Students do as the teacher said.
- The teacher asks students to work in pairs to do the task.
- Students do the task with their partners.
- The teacher asks some students to present their conversations.
- The teacher gives feedbacks.
- The teacher asks students to work in pairs to do the task.
- Students do the task in pairs.
- The teacher asks some students to present.
- The teacher gives feedbacks.
- The teacher asks students some questions.
- Students give answers.
- The teacher gives feedbacks.
- The teacher tells the homework.
- Students listen and take notes.
Warm up (5')
Listing:
List the names of some international organizations
UN: United Nations
WHO: World Health Organization
WTO: World Trade Organization
WWF: World Wildlife Fund
UNICEF
Pre- speaking: Teaching new words. (8')
* Task 1: Read the passage and answer the questions:
1. World Health Organization.
2. It was established on 7 April 1948.
3. Its main objective is the attainment by all people of the highest possible level of health.
4. Its main activities are carrying out research on medical development and improving international health care.
While- speaking:
* Task 2: Questions (13)
- What does stand for?
- When was it held?
- Where is the headquarters?
- What is its aim?
- What are its main activities?
* Task 3 (15')
Post- speaking: (3')
Asks students some questions about the scoreboard at the 22nd Sea Games:
What does WHO stand for?
When was UNICEF founded?
Where is WWF's headquarter?
5. Homework: (1')
- Learning all new words by heart
- Preparing for the new lesson.
VI. Comments:

Tài liệu đính kèm:
giao_an_tieng_anh_lop_12_unit_14_international_organizations.doc