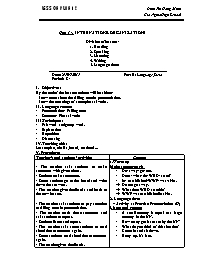 I. Objectives:
By the end of the lesson students will be able to:
+ know more about the falling tune in pronunciation.
+ know the meanings of some phrasal verbs.
II. Language content
– Pronunciation: Falling tune
– Structure: Phrasal verbs
III. Techniques:
– Pair work and group work.
– Explanation
– Repetition
– Discussing
IV. Teaching aids:
Lesson plan, chalks, board, textbook.
V. Procedure:
Bạn đang xem tài liệu "Giáo án Tiếng Anh Lớp 12 – Unit 14: International organizations – Period 84: Language focus – Năm học 2014-2015 – Đinh Thị Hồng Minh", để tải tài liệu gốc về máy bạn click vào nút DOWNLOAD ở trên
Unit 14: INTERNATIONAL ORGANIZATIONS
Division of lessons:
1. Reading
2. Speaking
3. Listening
4. Writing
5. Language focus
 ___________________________________________________________
 Date: 23/03/2015 Part E: Language focus
 Period: 84
Objectives: 
By the end of the lesson students will be able to:
+ know more about the falling tune in pronunciation.
+ know the meanings of some phrasal verbs.
Language content
Pronunciation: Falling tune
Structure: Phrasal verbs
Techniques:
Pair work and group work.
Explanation
Repetition
Discussing
Teaching aids:
Lesson plan, chalks, board, textbook...
V. Procedure:
Teacher's and students' activities
 Content
- The teacher asks students to make sentences with given clues.
- Students make sentences.
- Some students go to the board and write down the answers.
- The teacher gives feedbacks and leads to the new lesson.
- The teacher asks students to pay attention to falling tune in pronunciation.
- The teacher reads these sentences and asks students to repeat.
- Students listen and repeat.
- The teacher asks some students to read aloud these sentences again.
- Some students read aloud these sentences again.
- The teacher gives feedbacks.
- The teacher tells students meanings of some phrasal verbs.
- Students listen and take notes.
- The teacher asks students to work in pairs to do the task.
- Students do the task with their partners.
- The teacher asks some students to give answers orally.
- Some students gives answers.
- The teacher gives feedbacks.
- The teacher asks students to work in pairs to do the task.
- Students do the task with their partners.
- The teacher asks some students to go to the board to write down the answers.
- Some students go to the board and write down the answers.
- The teacher checks the answers.
- Students look at the board, listen and take notes.
- The teacher asks students to work in pairs to do the task.
- Students do the task with their partners.
- The teacher asks some students to go to the board to write down the answers.
- Some students go to the board and write down the answers.
- The teacher checks the answers.
- Students look at the board, listen and take notes.
1.Warm up 
Make sentences: (4)
Do/ away/ go/ not.
Does/ what/ for/ WHO/ stand?
In/ established/ WWF/ was/ 1961.
Do not go away.
What does WHO stand for?
WWF was established in 1961.
2. Language focus
 * Activity 1: Practise Pronunciation (8')
Listen and repeat:
A small country is equal to a large country in the UN.
How many goals are set by the UN?
What do you think of this situation?
Come in and sit down.
Hurry up. It's late.
* Activity 2: Phrasal verbs (10)
- fill in (phr)
- look up (phr)
- give up (phr) ≈ stop (v)
- put on (phr) # take off (phr)
- turn on (phr) # turn off (phr)
- wash up (phr)
- go on (phr) ≈ continue (v)
- look after (phr) ≈ take care of (phr)
- take after (phr) ≈ look like (phr)
- get over (phr) ≈ recover from (v)
* Activity 3: Exercise 1 (7)
1.give up
2. fill in
3. turn on
4. take off
5. wash up
6. look up
7. turn off
8. fill in
9. go on
10. put on
* Activity 4: Exercise 2 (7)
2. up
3. out
4. round
5. on
6. up
7. down
8. away
9. down
10. on
* Activity 5: Exercise 3 (8)
2. look after
3. takes after
4. got over
5. held up
6. try out
7. went off
 VI. Comments

Tài liệu đính kèm:
giao_an_tieng_anh_lop_12_unit_14_international_organizations.doc