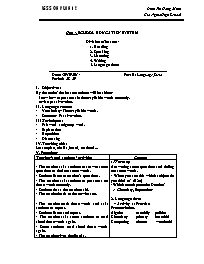 I. Objectives:
By the end of the lesson students will be able to:
+ know how to put stress in three-syllable words correctly.
+ revise passive voice.
II. Language content
– Vocabulary: Three-syllable words.
– Structure: Passive voice.
III. Techniques:
– Pair work and group work.
– Explanation
– Repetition
– Discussing
IV. Teaching aids:
Lesson plan, chalks, board, textbook.
V. Procedure:
Bạn đang xem tài liệu "Giáo án Tiếng Anh Lớp 12 – Unit 4: School education system – Period 29+30: Language focus – Năm học 2014-2015 – Đinh Thị Hồng Minh", để tải tài liệu gốc về máy bạn click vào nút DOWNLOAD ở trên
Unit 4: SCHOOL EDUCATION SYSTEM
Division of lessons:
1. Reading
2. Speaking
3. Listening
4. Writing
5. Language focus
 ___________________________________________________________
 Date: 30/10/2014 Part E: Language focus
 Period: 28, 29
Objectives: 
By the end of the lesson students will be able to:
+ know how to put stress in three-syllable words correctly.
+ revise passive voice.
Language content
Vocabulary: Three-syllable words.
Structure: Passive voice.
Techniques:
Pair work and group work.
Explanation
Repetition
Discussing
Teaching aids:
Lesson plan, chalks, board, textbook...
V. Procedure:
Teacher's and students' activities
 Content
- The teacher asks students to answer some questions to find out some words.
- Students listen to teacher's questions.
- The teacher asks students to put stress on these words correctly.
- Students do as the teacher said.
- The teacher leads to the new lesson.
- The teacher reads these words and asks students to repeat.
- Students listen and repeat.
- The teacher asks some students to read aloud these words again.
- Some students read aloud these words again.
- The teacher gives feedbacks.
- The teacher asks students one question.
- Students answer teacher's question.
- The teacher lead to the English grammar in the new lesson.
- The teacher recall the way to change one sentence into passive voice.
- Students listen and take notes.
- The teacher recalls the structures of passive voice in paticular tense.
- Students listen and take notes
- The teacher asks students to work in pairs to do the task.
- Students do the task with their partners.
- The teacher asks some students to go to the board to write down the answers.
- Some students go to the board and write down the answers.
- The teacher checks the answers.
- Students look at the board, listen and take notes.
- The teacher asks students to work in pairs to do the task.
- Students do the task with their partners.
- The teacher asks some students to go to the board to write down the answers.
- Some students go to the board and write down the answers.
- The teacher checks the answers.
- Students look at the board, listen and take notes.
1.Warm up
Answering some questions and fnding out some words.
- When you see this which subject do you think of? (H20)
- Which month precedes October?
=> Chemisty, September
2. Language focus
 * Activity 1: Practise Pronunciation.
Algebra carefully politics
Chemistry primary beautiful
Computing cinema wonderful
* Activity 2: Lead in grammar
Question: What is this table made from?
-> This table is made from wood.
=> Passive voice
* Activity 3: Teaching grammar
A: S + V + O
P: S + be+ V3/V-ed (by+O)
* Activity 4: Exercise 1
* Activity 4: Exercise 1
 VI. Comments

Tài liệu đính kèm:
giao_an_tieng_anh_lop_12_unit_4_school_education_system_peri.doc