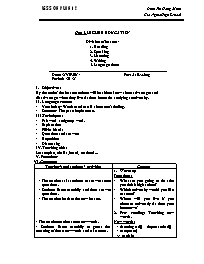 I. Objectives:
By the end of the lesson students will be able to know about advantages and disadvantages when they live far from home for studying at university.
II. Language content
– Vocabulary: Words used to talk about one's feeling.
– Structure: The past simple tense.
III. Techniques:
– Pair work and group work.
– Explanation
– Fill-in blanks
– Questions and answers
– Repetition
– Discussing
IV. Teaching aids:
Lesson plan, chalks, board, textbook.
V. Procedure:
 VI. Comments
Bạn đang xem tài liệu "Giáo án Tiếng Anh Lớp 12 – Unit 5: Higher education – Period 30+31: Reading – Năm học 2014-2015 – Đinh Thị Hồng Minh", để tải tài liệu gốc về máy bạn click vào nút DOWNLOAD ở trên
Unit 5: HIGHER EDUCATION
Division of lessons:
1. Reading
2. Speaking
3. Listening
4. Writing
5. Language focus
 ___________________________________________________________
 Date: 31/10/2014 Part A: Reading
 Period: 30, 31
Objectives: 
By the end of the lesson students will be able to know about advantages and disadvantages when they live far from home for studying at university.
Language content
Vocabulary: Words used to talk about one's feeling.
Structure: The past simple tense.
Techniques:
Pair work and group work.
Explanation
Fill-in blanks
Questions and answers
Repetition
Discussing
Teaching aids:
Lesson plan, chalks, board, textbook...
V. Procedure:
 VI. Comments
Teacher's and students' activities
Content
The teacher asks students to answer some questions.
Students listen carefully and then answer questions.
The teacher leads to the new lesson.
- The teacher teaches some new words.
- Students listen carefully to guess the meaning of these new words and take notes.
- The teacher reads aloud these new words.
- Students listen and repeat.
- The teacher asks some students to read aloud these new words again.
- Some students read aloud these words again.
- The teacher listens and gives feedbacks. 
- The teacher reads aloud the whole passage.
- The teacher asks students to find out the types of missing words.
- Students do as the teacher said.
- The teacher asks students to work in pairs to do the task.
- Students do the task with their partners.
- The teacher asks some students to give answers.
- The teacher gives feedbacks.
- The teacher asks students to work in pairs to do the task.
- Students do the task with their partners.
- The teacher moves around to help.
- The teacher asks some students to give answers.
- The teacher gives feedbacks.
- The teacher asks students to find out the key words in these questions.
- Students do as the teacher said.
- The teacher asks students to work in pairs to do the task.
- Students do the task with their partners.
- The teacher asks some students to give answers.
- The teacher gives feedbacks.
- The teacher asks students to work in groups to discuss the question.
- Students discuss the question.
- The teacher tells the homework.
- Students listen and take notes.
Warm up
Questions:
What are you going to do after you finish high school?
Which university would you like to attend?
Where will you live if you choose a universtiy far from your hometown?
Pre- reading: Teaching new words.
New words:
daunting (adj) = depressed (adj)
campus (n)
-> explain
- scary (adj)
-> give context
- blame (v)
- challenge (n)
While- reading:
Task 1: Complete the following sentences using the right forms of the words in box:
campus
blame
scariest
challenges
amzing
Task 2: Find out who:
Sarah: (1) a (2) e
Ellen: (3) b (4) c
Brenden: (5) d (6) f
Task 3: Answer the following questions
She went out with her new friends walking around campus.
Because the people at the party were busy playing some games, and no one seemed to notice her existence.
Her roomate left the window all the time, even when it was 10 degrees Celsius out and went to bed at 10 every night.
Post- reading:
Questions: How important is tertiary study to you?
5. Homework:
- Leaning all new words by heart
- Preparing for the new lesson.
VI. Comments:

Tài liệu đính kèm:
giao_an_tieng_anh_lop_12_unit_5_higher_education_period_3031.doc