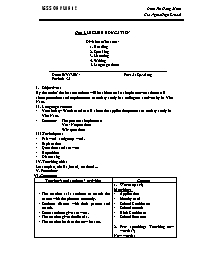 I. Objectives:
By the end of the lesson students will be able to make simple conversation to talk about procedure and requirements to tertiary study in a college or a university in Viet Nam.
II. Language content
– Vocabulary: Words used to talk about the application process to tertiary study in Viet Nam.
– Structure: + The present simple tense
 + Yes/ No questions
 + Wh- questions
III. Techniques:
– Pair work and group work.
– Explanation
– Questions and answers
– Repetition
– Discussing
IV. Teaching aids:
Lesson plan, chalks, board, textbook.
V. Procedure:
 VI. Comments
Bạn đang xem tài liệu "Giáo án Tiếng Anh Lớp 12 – Unit 5: Higher education – Period 32: Speaking – Năm học 2014-2015 – Đinh Thị Hồng Minh", để tải tài liệu gốc về máy bạn click vào nút DOWNLOAD ở trên
Unit 5: HIGHER EDUCATION
Division of lessons:
1. Reading
2. Speaking
3. Listening
4. Writing
5. Language focus
 ___________________________________________________________
 Date: 01/11/2014 Part A: Speaking
 Period: 32
Objectives: 
By the end of the lesson students will be able to make simple conversation to talk about procedure and requirements to tertiary study in a college or a university in Viet Nam.
Language content
Vocabulary: Words used to talk about the application process to tertiary study in Viet Nam.
Structure: + The present simple tense
 + Yes/ No questions
 + Wh- questions
Techniques:
Pair work and group work.
Explanation
Questions and answers
Repetition
Discussing
Teaching aids:
Lesson plan, chalks, board, textbook...
V. Procedure:
 VI. Comments
Teacher's and students' activities
Content
The teacher asks students to match the names with the pictures correctly.
Students discuss with their partner and match.
Some students give answers.
The teacher gives feedbacks.
The teacher leads to the new lesson.
- The teacher teaches some new words.
- Students listen carefully to guess the meaning of these new words and take notes.
- The teacher reads aloud these new words.
- Students listen and repeat.
- The teacher asks some students to read aloud these new words again.
- Some students read aloud these words again.
- The teacher listens and gives feedbacks. 
- The teacher asks students to work in pairs to do the task.
- Students do the task with their partners.
- The teacher moves around to help.
- The teacher asks some students to give answers.
- The teacher gives feedbacks.
- The teacher asks students to do the task with their partners.
- Students do the task with their partners.
- The teacher asks some pairs to present.
- Some pairs present.
- The teacher gives feedbacks.
- The teacher asks students to make conversations without looking at their textbooks.
- Students make conversations.
- The teacher tells the homework.
- Students listen and take notes.
Warm up: (5)
Matching:
Application
Identity card
School Certificates
School records
Birth Certificate
School Entrance
Pre- speaking: Teaching new words (7)
New words:
school certificate (n)
birth certificate (n)
school record (n)
application form (n)
identity card (n)
While- speaking:
Task 1: Below are the admission requirements for tertiary institutions in some countries. Tick those which are obligatory for you to be admitted to a university in Viet Nam. (6)
Task 2: (21)
Example:
A: Can you tell me when do we have to fill in the application form?
B: In March.
..........................................................
Post- speaking: (5)
Making conversation without looking at their textbooks.
5. Homework: (1)
- Leaning all new words by heart
- Preparing for the new lesson.
VI. Comments:

Tài liệu đính kèm:
giao_an_tieng_anh_lop_12_unit_5_higher_education_period_32_s.doc