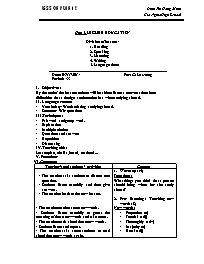 I. Objectives:
By the end of the lesson students will be able to listen a conversation about difficulties that a foreign student often has when studying abroad.
II. Language content
– Vocabulary: Words relating studying abroad.
– Structure: Wh- questions
III. Techniques:
– Pair work and group work.
– Explanation
– Multiple choice
– Questions and answers
– Repetition
– Discussing
IV. Teaching aids:
Lesson plan, chalks, board, textbook.
V. Procedure:
 VI. Comments
Bạn đang xem tài liệu "Giáo án Tiếng Anh Lớp 12 – Unit 5: Higher education – Period 33: Listening – Năm học 2014-2015 – Đinh Thị Hồng Minh", để tải tài liệu gốc về máy bạn click vào nút DOWNLOAD ở trên
Unit 5: HIGHER EDUCATION
Division of lessons:
1. Reading
2. Speaking
3. Listening
4. Writing
5. Language focus
 ___________________________________________________________
 Date: 03/11/2014 Part C: Listening
 Period: 33
Objectives: 
By the end of the lesson students will be able to listen a conversation about difficulties that a foreign student often has when studying abroad.
Language content
Vocabulary: Words relating studying abroad.
Structure: Wh- questions
Techniques:
Pair work and group work.
Explanation
Multiple choice
Questions and answers
Repetition
Discussing
Teaching aids:
Lesson plan, chalks, board, textbook...
V. Procedure:
 VI. Comments
Teacher's and students' activities
Content
The teacher asks students to discuss one question.
Students listen carefully and then give answers.
The teacher leads to the new lesson.
- The teacher teaches some new words.
- Students listen carefully to guess the meaning of these new words and take notes.
- The teacher reads aloud these new words.
- Students listen and repeat.
- The teacher asks some students to read aloud these new words again.
- Some students read aloud these words again.
- The teacher listens and gives feedbacks. 
- The teacher asks students to read the requirement of the task carefully.
- Students read the requirement of the task.
- The teacher asks students to read the questions carefully to guess the answers. 
- Students read the questions.
- The teacher lets students listen to the tape twice.
- Students listen carefully.
- The teacher asks students to discuss the answers with their partners.
- Students discuss with their partners.
- The teacher asks some students to give answers.
- Some students give answers.
- The teacher lets students listen again to check.
- The teacher gives feedbacks.
- The teacher raises the question.
- Students discuss the question with their partners.
- The teacher tells the homework.
- Students listen and take notes.
Warm up: (5)
Questions:
What things you think that a person should bring when he/ she study abroad?
Pre- listening: Teaching new words (8)
New words:
Proportion (n)
Tutorial (adj)
Thoroughly (adv)
Majority (n)
Rural (adj)
While- listening: (25)
Listen to the conversation between John and David and circle the best option A, B, C or D.
1.A
2.A
3.C
4.A
5.C
Post- listening: (6)
Question: Would you prefer to do an undergraduate course abroad or in your country?
5. Homework: (1)
- Leaning all new words by heart
- Preparing for the new lesson.
VI. Comments:

Tài liệu đính kèm:
giao_an_tieng_anh_lop_12_unit_5_higher_education_period_33_l.doc